Whale amazes people on cruise with 'magical rainbow breath'; viral video
A whale mesmerised people onboard a ship with its 'rainbow breath'.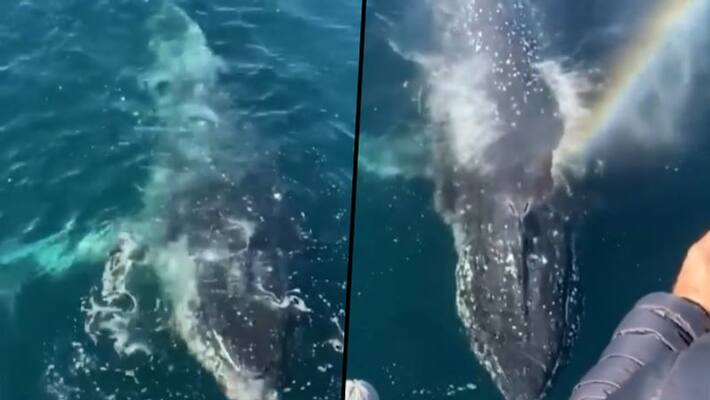 Sea creatures are captivating because they are unique and incredible. Occasionally pictures and videos of these sea creatures emerge on social media and give us a glimpse of aquatic life. One such video of a giant whale is creating ripples on digital media. The clip shows a monstrous whale taking a rainbow breath. Yes, a video shows a group of people on a cruise ship observing a giant whale taking 'rainbow breath' in the water.
The official Instagram account of Tourism Australia posted this video on their handle. The video caption describes that the people on board a ship of Cat Balou Cruises noticed the friendly whale while moving around #YuinCountry on the Sapphire Coast NSW." In the video, one can see people taking pictures of the whale, which is right in front of them. Also, the whale takes 'rainbow breath' and mesmerises everyone present there.
After being shared online, the video has accumulated around 285k views. It has also invited many comments from social media users who appeared to be thrilled by the video. A user wrote, "Brilliant capture." Another person commented, "Our gentle giants. We are so lucky." Take a look.
Last Updated Sep 28, 2021, 11:10 AM IST