Watch: Journalist interviews donkey to create awareness on wearing face masks
The video of an interview with a donkey has gone viral on social media, garnering more than 1.5 lakh views. Netizens were left in splits with the journalist's sarcasm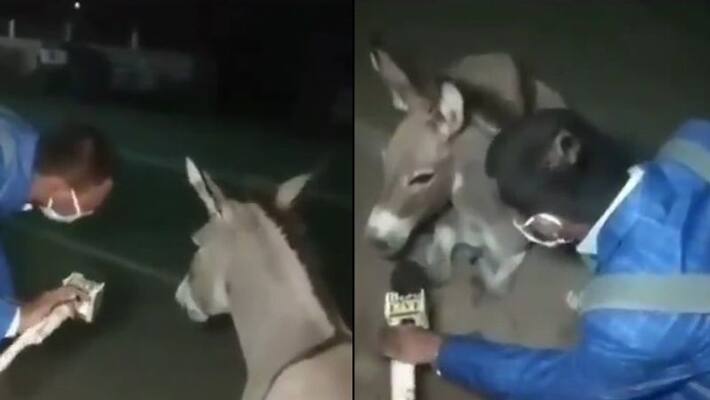 Bengaluru: A video has gone viral on social media where a journalist can be seen interviewing a donkey to create awareness about the coronavirus (COVID-19). In the 38-second video, the journalist can be seen asking the donkey, why is it sitting on the road without a mask? And why it is roaming outside during the lockdown. He also asked whether the donkey sanitisied itself.
As the donkey obviously doesn't respond, the journalist complains to a man that the donkey is not replying to his questions.
To this the walker said that he won't speak. The journalist asks him, what is its name and to this the man said its name is donkey.
The journalist concludes, "Gadha jo hai bhaiya lockdown me bahar ghumta hai aur mask nahi lagata hai (Donkeys roam outside during lockdown without wearing face masks)."
Without getting the sarcasm of the journalist, the man replies, "Haan (Yes)."
This video has been  shared by IPS officer Arun Bothra on Twitter. "Best media interview of the Lockdown period," Bothra wrote while sharing the video.
Also watch: We know India is battling enemies like the dreaded Covid-19 & a conniving China. But there is a bigger enemy, and that one lies within.
Find out more in #TheNewsableDecipher
Last Updated Jul 22, 2020, 5:44 PM IST