Viral video: Mother bear shows cub how to use slide in playground
A video of a mother bear teaching her cub to use the slide at a school playground has emerged on social media.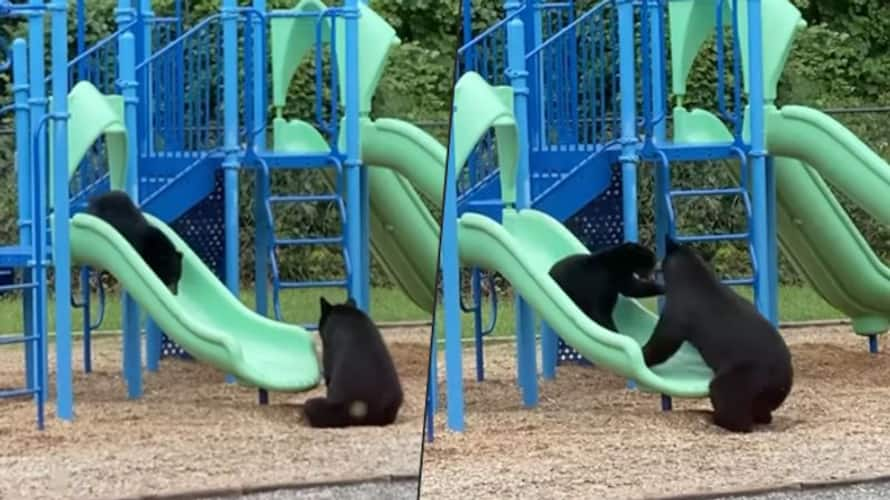 A video involving a mother bear and her cub in an elementary school has emerged on social media. The video surprised many, and there is a chance that it will make your day too.
North Carolina's Isaac Dickson Elementary School teacher, Betsie Stockslager posted this video on Facebook with the part of the caption that reads, "This MADE MY DAY - playground at school… watch the whole thing!!"
In the video, the two — a mother and her cub are seen playing on the playground. Moments later, the more prominent black bear shows her cub how to use the playground slide. Yes, the mother bear teaches the nervous cub how to skid down a tall slide. While the teachers shooting the video can be heard screaming in the background.
Following which the mama bear runs towards the bottom of the slide and waits for the cub, who is standing on the top of the slide. Finally, the brave cub slithers down and joins its mother.
After being shared online, the video has collected over 34k views and 130 comments.  Also, the video has been re-shared on many platforms. The over a minute clip inspired people to post various comments. A user wrote, "Thanks for capturing such an adorable video. So much fun to watch, over and over. Will take this kind of news any day!" Some users expressed their concern over the video too. A person commented, "It's a little concerning to me that mama and her cub is so comfortable to come to the children's playground. It would seem to me they need to close the playground, or move the bear and her babies to another location!" Watch the video.
Last Updated Sep 25, 2021, 3:25 PM IST