Viral video: Lion and lioness fight; see what happened next
In a viral video, a lion and a lioness are involved in a fight. The clip is from Gir Forest in Gujarat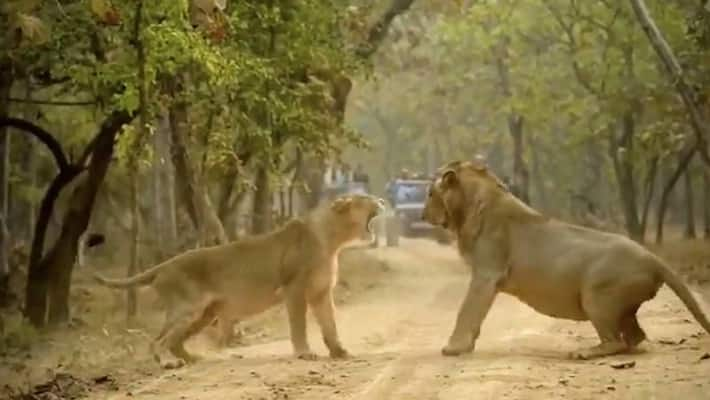 Ahmedabad: A video is doing the rounds on social media where a lion and a lioness can be seen in a fierce fight with each other. The fight of the duo was captured by Gujarat BJP politician Zubin Ashara. Wild India tagged him in the post with the caption, "The royal affair captured in Gir Forest. Headphone recommended."
Take a look at the video.
In the video, the lioness charges at the lion and even hits him. Later, she cowers down a bit after which she sits down with the lion looking on.
The video is said to be from the renowned Gir National Park in Gujarat which is the home of the majestic Asiatic lions.
The fight was witnessed by a couple of people who were standing from the safari jeeps and looking at the show in front of them.
Many Twitter users said that they can be husband and wife. And many others cracked jokes about the fight.
A user also commented, "It was your turn to do the cooking. I signed up for the washing."

Also watch: We know India is battling enemies like the dreaded Covid-19 & a conniving China. But there is a bigger enemy, and that one lies within. 
Find out more in #TheNewsableDecipher
Last Updated Jul 26, 2020, 5:15 PM IST