Orangutan sports sunglasses dropped by zoo visitor; watch video
A video of an orangutan wearing a stylish pair of sunglasses that a tourist accidentally dropped in a zoo enclosure has emerged on social media.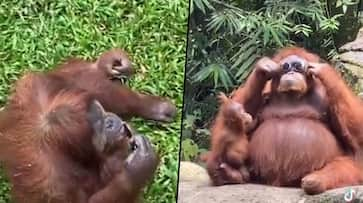 Orangutans are very clever primates with the ability to solve challenging puzzles. Frequently they have shown a human-like capability of using accessories to get tasks done. Recently, a viral video shows an orangutan modelling sunglasses after a visitor accidentally dropped the glasses at a zoo in Indonesia. In the TikTok video shared by Lola Testu, the intelligent primate can be seen sidling over to the spot moments after dropping near her area. As the orangutan picks up the unknown object, Lola Testu can be heard saying: "Oh no, don't eat it."
However, the primate knows better, and within seconds she opened both arms of the sunglasses and wore them. When its baby tries to grab the glasses, the parent orangutan pushes the baby's hand. Towards the end of the video, the orangutan throws the sunglasses towards the zoo's visitors. Netizens are fascinated by the video, which has earned over 38k views. Take a look.
Last Updated Aug 3, 2021, 3:59 PM IST