Monkeys hoist the tricolour on Independence day; watch viral video
A video of two monkeys hoisting the National flag on a school building has emerged on social media.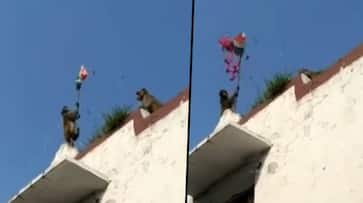 A hilarious video indeed amused many patriotic people in the country. Yes, monkeys are believed to be intelligent creatures and are often seen copying human behaviour. One such video shows a patriotic monkey hoisting the tricolour on India's Independence Day. The video went viral on social media, and netizens were left surprised as well as amused. Instagram user Gidda Company shared this video with the caption, "Un netao ko sikhao kuch"
Two monkeys sit on top of the roof where the National flag is ready to be hoisted in the video. While one monkey climbs up the flagpole and does the needful, the other is just standing beside him. As soon as the flag is hoisted, flowers start falling from it, and people clap and cheer. It appears to be a school building on the occasion of Independence Day.
After being shared online, the video has accumulated over 17,000 views. Netizens were impressed with the monkey's intelligence and humorously related them with politicians. Take a look.
Last Updated Aug 21, 2021, 10:27 AM IST