Man traps crocodile in trash can; bizarre video goes viral
A man catching a crocodile in a trash can has emerged on social media.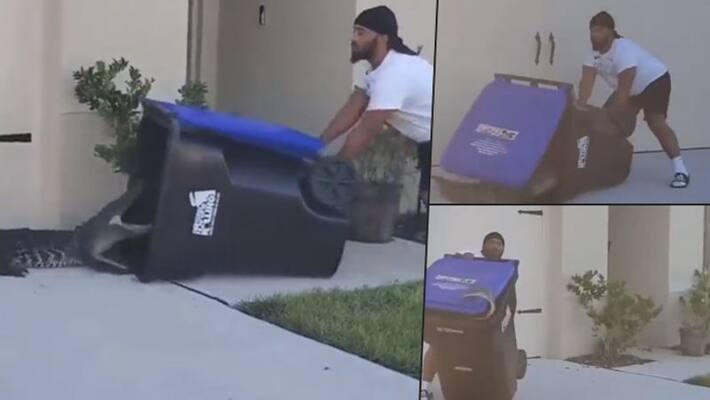 Digital media is a treasure for mind-blowing and bizarre content. On the other hand, the whole world knows that Indians are known for jugaad ideas and one such video of a man went crazy viral for resolving an equally strange problem.
Yes, a clip shows a man catching a crocodile in a trash can, and you will have to see to believe his unique idea.
The 52-second video starts with a man's brilliant attempt to catch a crocodile by dragging it into an empty garbage bin. The man slowly pushes the container towards the creature, backing off at the same pace.
Finally, the man successfully traps the reptile in the garbage bin by forcing it inside the container. The clip ends with the man closing the lid of the container as eyewitnesses cheer.
The shocking part of the video was that the man accomplished this task without even wearing any safety gear.
Twitter handle by name @MajorFactor2 shared this clip with the caption, "Bruh said by any means necessary (sic)."
After being shared online, the video has accumulated over 14 million views and inspired netizens to share their reactions in the comments section.
While many users praised the man for his bravery, others were concerned about the crocodile. However, it is not clear when and where this incident occured. Watch the video.
Last Updated Oct 1, 2021, 9:27 AM IST