Dog working out with two girls; adorable video goes viral
While two girls were doing burpees, their pet dog tried to copy them. The viral video will make your day.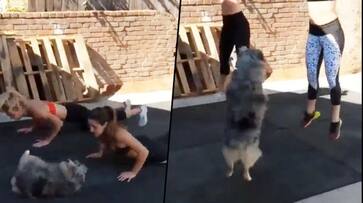 A viral video shows two girls working out with their furry friend. Twitter user Buitengebieden shared this video with the caption, "Workout buddies are the best.." The 10-second video shows two girls dressed in athleisure doing burpees and encouraging their dog to copy them. Yes, a woman heard saying "Jump and roll," which their furry friend follows perfectly.

After being shared online, the video has garnered over 74.5k views and 6714 likes. Also, several people retweeted the video and shared their opinion in the comment section—netizens like the cute dog and its skills. Watch the video, which will surely make your day.
Last Updated Aug 18, 2021, 11:37 AM IST