Check out how a man saves his pet dog from rolling off the cliff; video goes viral
A viral video of a man saving his dog who nearly rolled off a cliff has emerged on social media.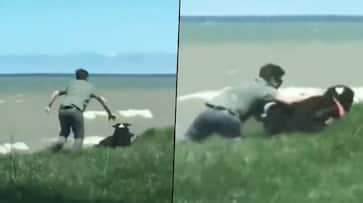 A heartwarming video shows a man's appropriate action, which eventually saves a dog's life. The short clip shared on Reddit with the caption, "Dad saving his dog who nearly rolled off a cliff." 
In the video, a man and his pet dog can be seen enjoying the view from the cliff. Moments later, the dog loses its balance and begins to roll off on the inclined surface. However, the man quickly jumped and grabbed the animal to save it. The man also is seen taking a breather and keeping the dog in a safe spot. 
After being shared online, the video has accumulated over 13.3k upvotes and hundreds of comments. Netizens praised the man for saving the dog. Many mentioned the dog's confident reaction, unaware of the incident that just happened. Watch the video.
Last Updated Aug 30, 2021, 11:13 AM IST