Believe it or not: Fish with human-like teeth found in North Carolina (Photo)
A fisherman caught an unusual fish with human-like teeth off the Outer Banks in North Carolina, US.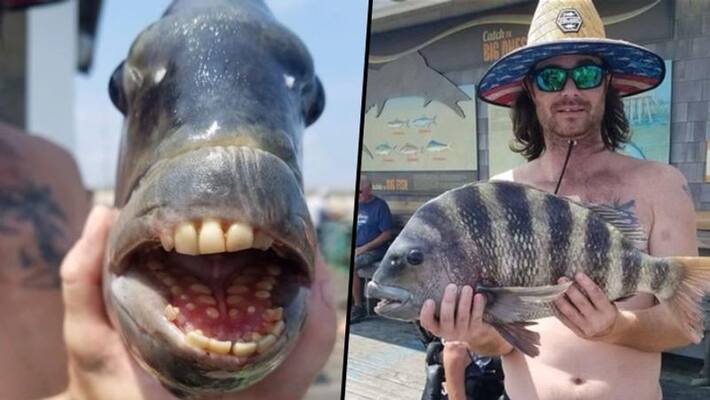 A man from North Carolina, USA, caught unusual fish off the Outer Banks, with human-like teeth. Jennette's Pier posted the picture of bizarre fish on Facebook. Usually, such fish, sheepshead fish were discovered near rocks, harbours, banks, and even bridges. They are also recognised as the "convict fish" because of their black and white bands.
In the picture, one can see the sheepshead fish and its complete set of white teeth. According to Scientific American, the sheepshead's teeth looks similar to humans because they too were omnivores. And the fish uses its frontal teeth to smash shells of prey. On average, the fish weigh between 5 and 15 pounds. 
The pictures of sheepshead fish have gone viral on social media and gained over 1,200 likes and more than 230 comments. This is not the first time sheepshead fish's teeth have baffled netizens. A fisherman named Paul Lore caught similar sheepshead fish in February. Watch the video.
Last Updated Aug 5, 2021, 12:00 PM IST