Alligator escapes from zoo enclosure during feeding time; watch video
Watch how an alligator escaped from a zoo enclosure while jumping for food has emerged on social media.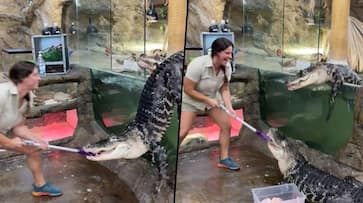 An alligator making an exciting escape from its enclosure during feeding time at a zoo in the U.S. The incident has been recorded on camera. The video shows the zoo owner's daughter Juliette Brewer unlocking a glass slide shutter and serving raw poultry to two alligators at the Fountain Valley Reptile Zoo in California. Then, Darth Gator was seen climbing above the enclosure to grasp the chicken meat better. The Reptile Zoo's official Facebook page shared this video. As per the video, the 8.5 feet long alligator weighs more than 200 pounds. Towards the end, Juliette Brewer lifts the Darth with her father, Jay Brewer, and putting the alligator back into its enclosure. 

According to zoo employees, the zoo frequently posts videos featuring reptiles, which has helped the zoo's business. The zoo officials said through these videos, visiters and guests would learn about the uncommon species. After being shared online, netizens were surprised by the incident and shares various opinions in the comment section. Take a look.
Last Updated Aug 15, 2021, 9:15 AM IST