India: Dismantle terror safe havens for enduring peace in Afghanistan
Targeting Pakistan, External Affairs Minister S Jaishankar said those providing material and financial support to terrorist entities must be held accountable.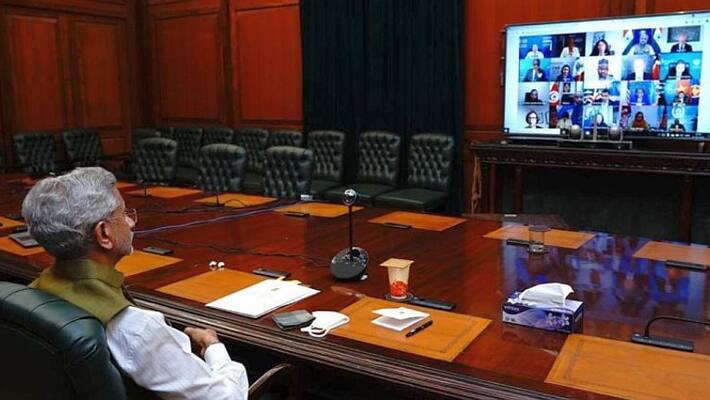 India has pressed for a permanent and comprehensive ceasefire in Afghanistan and said it has been supportive of all the efforts being made to accelerate the dialogue between the Afghan government and the Taliban, including the intra-Afghan negotiations. 
Speaking at a virtual debate on Afghanistan in United Nations Security Council, External Affairs Minister S Jaishankar said, "If the peace process is to be successful, then it is necessary to ensure that the negotiating parties continue to engage in good faith, eschew the path to find a military solution, and fully commit towards reaching a political solution. A tangible demonstration of this commitment is required."
 
India welcomed any move towards a genuine political settlement and a comprehensive and permanent ceasefire in Afghanistan. 
Targeting Pakistan, Jaishankar said those providing material and financial support to terrorist entities must be held accountable.
Calling for zero tolerance towards terrorism in all its forms and manifestations including its cross-border one, Jaishankar said, "A durable peace in Afghanistan requires a genuine double peace -- peace within Afghanistan and peace around Afghanistan. It requires harmonizing the interests of all, both within and around that country. For enduring peace in Afghanistan, terrorist safe havens must be dismantled immediately and their supply chain disrupted."
He also called for a permanent ceasefire in an effort to ensure immediate reduction in violence and protection of civilians. 
"Any political settlement in Afghanistan must ensure that gains of the last 20 years are protected and not reversed. It should, therefore, preserve the constitutional democratic framework and ensure the protection of rights of women, children and minorities."
Reiterating India's stand with Afghanistan in ensuring restoration of normalcy through a legitimate democratic process, he said New Delhi will continue to provide all support to the government and people of Afghanistan in realizing their aspirations for a peaceful, democratic and prosperous future, free of terror, so as to protect and promote the rights and interests of all sections of Afghan society. 
It is important to mention here that Qatar's Special Envoy Mutlaq bin Majed Al Qahtani on Monday confirmed that Indian officials made a 'quiet visit' to Doha to hold talks with the Afghan Taliban's political leadership based there.
"Afghanistan should not become a place for proxy among any other countries. It is in the interest of Pakistan to have a more stable Afghanistan. It is in India's interest to have stability in Afghanistan. Pakistan is a neighbouring country. India, as we know, has invested a lot economically and wants Afghanistan to be more peaceful and stable. I believe there has been a quiet visit by Indian officials to speak to the Taliban. Why because not everybody believes that Taliban will dominate and take over but because Taliban is a key component of the future of Afghanistan," Qahtani said while responding to a query from The Hindu at a web conference on Monday.
Last Updated Jun 22, 2021, 8:49 PM IST