Demonetisation: Why size matters? Why it's making you stand in longer queues?
On November 8, Prime Minister Modi took the nation by surprise by banning Rs 500 and Rs 1000 notes starting midnight.
The move was to curb black money and new Rs 2000 and Rs 500 notes were issued by the RBI.
The ATM machines had to be recalibrated to dispense the new notes.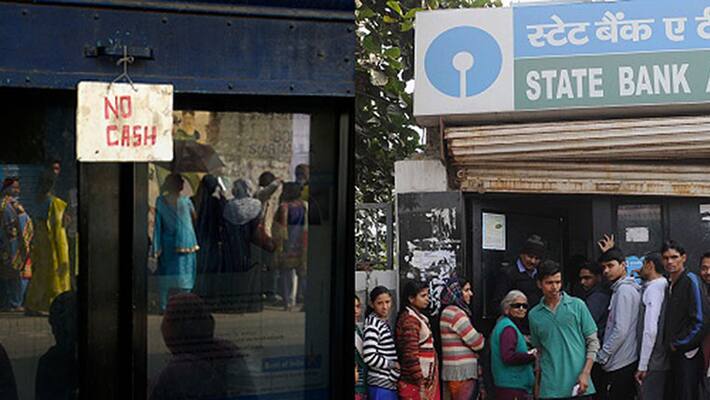 Rewind back to November 9 and the nation woke up in awe and shock post the currency ban announcement. With the ban on Rs 500 and Rs 1000 notes led to an unimaginable chaos among citizens, who started queuing outside banks to exchange old notes and withdraw/deposit cash. ATMs were shut, and remained shut for several days due to lack of cash. And, when some of them did open shutters, the cash disappeared within hours and even minutes.
While the move to curb black money was hailed as Modi's masterstroke, it was soon criticised for the sheer lack of implementation. The inability of banks and ATMs to dispense money led to a frenzy of sort, amid cries of housewives who scrambled through the month and piled up savings over the years, people without bank accounts and so on.
Most ATMs were running dry as they weren't re-calibrated to dispense the new notes. Recalibration was a process that was needed to fix the ATMs so that they can dispense the new notes because they weren't of the same size as the older ones.
The ATMs couldn't be calibrated before hand, as Finance Minister Jaitely cited secrecy reasons. But, wouldn't it have been a wiser plan to avoid the process or at least some part of it by making the notes the same size. Devising a plan as big as this, and overlooking such a basic detail is definitely earning the government a fair share of mockery, and why not.
It now seems to have become a bone of contention as a decision as big as banning currency lacked the common sense that could have made things easier for the government, banks and people. To understand the gravity, we first need to understand that recalibration isn't a simple task, given the situation.
Recalibration is a tedious and time-consuming process
Recalibration means changing the hardware and software related to an ATM machine to support the new notes. The new Rs 500 and Rs 2000 notes are smaller in size compared to the current notes. Now, an ATM machine comes equipped with several cassettes, and each of this cassette is calibrated to dispense a particular note. In cities, ATMs are mostly calibrated to dispense Rs 1000, Rs 500 and limited Rs 100 notes, and rural areas are calibrated to dispense even smaller notes. These cassettes hold the notes and help the ATM dispense out money depending upon the software program logic for that particular ATM machine. For example – two Rs 500 notes and five Rs 100 notes, or whatever logic is set by the bank to dispense Rs 1500.
Recalibration would mean these cassettes needed to be fixed to firmly hold the new notes and ensure the dispensing notes don't get stuck or tear. So, here arises the need to fix the hardware as well as reset the software logic to dispense notes. But, that's not all. Each ATM has an access code that is usually with a trusted bank custodian or a third-party if the bank has outsourced a cash service agency. In this case, recalibration would require the bank custodian and engineer to be present together to fix every machine. However, another factor here is to ensure there is availability of cash that can be pushed into the ATMs. Managing all three for a network of ATMs, in the wake of demonetisation, wasn't a simple task.
The overall process may slightly differ depending upon the cash drivers such as CMS, NCR, Diebold and so on. The recalibration process was to be completed in 2-3 weeks. By November 30, roughly three weeks post the announcement, 85 percent ATMS were said to be recalibrated. On December 6, reports pointed at 95 percent of ATMs being recalibrated. Meanwhile, cash supply seemed short, owing to the time required for recalibration, government's inability to print additional smaller notes and the high denomination Rs 2000 notes given by banks had very few to no takers in the market.
Lately, Congress MP Sashi Tharoor spoke about (via Indian Express) how the announcement missed even basic planning  to make the new notes the same size as the old calling the miss out 'mindboggling' and 'amateurish'.  He said how 55,000 engineers were put to work to recalibrate 2.5 lakh ATMs across the country. And, we couldn't agree more.
If the newer currency had the same size as the older ones, some amount of time and effort spent into recalibration would have been saved. And, we wonder why an aspect like this needed to be pointed by.
Last Updated Mar 31, 2018, 7:00 PM IST