RK Nagar Bypolls: Will similar names in the ballot paper cut down the vote shares?
More than 70% of people came out to vote for the RK Nagar bypolls
However, the ballot paper had many similar names, and interesting symbols confusing the votes
Do really the name-sakes divide the votes and cut down vote shares?
Come December 24, and all these questions will be answered with the results announced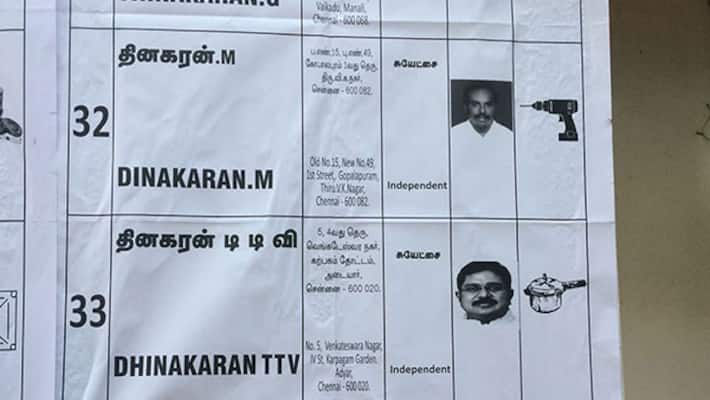 RK Nagar bypolls to late CM Jayalalithaa's constituency has come to an end with more than 70% of people turning out to cast their votes. But in an interesting observation, the ballot paper had many similar names, confusing the ballots.
For example, one of the main contestants Dhinakaran had a tough fight from his name-sakes Thinakaran G and Dinakaran M.
In the same way, there were more than two Madhusudhanans contesting the election. There was Madhusudhanan S and Madhusudhana R.
Should the people stop looking at the names and start looking at their party symbols?
Perhaps not. Even the symbols are sometimes interesting and sometimes funny. One can find from carrom boards, light poles, camera, batsmen and not to forget drilling machine and the chakki (was this symbol inspired by jail-life?). However,  TTV Dhinakaran's symbol expressed his pressure to win the election and he rightly chose pressure cooker as his election symbol.
Do really the namesakes divide the votes and cut down vote shares? Will people go for any other symbol than the most popular two-leaves? One has to wait till December 24 for the answer as the results of RK Nagara bypolls will be announced on that day.
Last Updated Mar 31, 2022, 12:58 PM IST