US Open 2023: 'Ten out of Ten' - Medvedev reveals how he's feeling after reaching semis (WATCH)
In a relentless battle on the tennis court, Daniil Medvedev persevered through scorching heat and humidity to secure his place in the US Open semifinals, defeating his close friend Andrey Rublev. Medvedev's victory adds another chapter to their rivalry and sets the stage for an exciting semifinal clash in the prestigious Grand Slam tournament.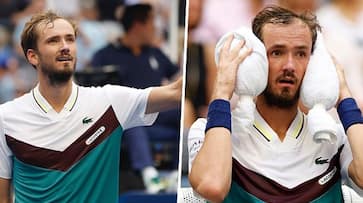 Daniil Medvedev continued his flawless record in US Open quarterfinals, clinching a spot in the semifinals for the fourth time by defeating his long-time friend Andrey Rublev with a score of 6-4, 6-3, 6-4 in the scorching heat of New York. The two players, battling in sweltering 34-degree Celsius conditions, grappled with the oppressive humidity, leading to Medvedev taking two medical timeouts due to the extreme temperature. Throughout the match, both competitors frequently found themselves bent over in exhaustion after grueling rallies on the iconic Arthur Ashe Stadium.
Reflecting on the challenging conditions, Medvedev remarked, "It was brutal. The only good thing I see in these conditions is that both suffer." He acknowledged the ups and downs in the game, especially during the first set when visibility became a concern, but he continued to play with his instincts intact.
Despite conceding an early break in each set, Medvedev demonstrated his resilience by regaining control at crucial moments. Using his lengthy reach to retrieve Rublev's powerful groundstrokes and employing a strategy of moving his opponent from side to side, Medvedev eventually wore down the 25-year-old in the punishing heat, securing victory after five match points.
Describing the strategy, Medvedev explained, "I tried to go for it, tried to run and he did the same... I was like, 'Wow, he can't run anymore,' so I tried to make him run and run, but he was there all the time. But we were tired all the time. Brutal conditions and super tough to win."
Medvedev now boasts a 6-2 head-to-head advantage against Rublev, having defeated him in the quarterfinals of the US Open in 2020 as well. The 27-year-old Russian will now face the winner of the match between Carlos Alcaraz and Alexander Zverev for a chance to reach his fifth major final.
If defending champion Carlos Alcaraz advances, it will mark the first time since 2018 that three former winners are in the US Open semifinals. Three-time champion Novak Djokovic will square off against Ben Shelton in the last four.
Also Read: US Open 2023: Alcaraz talks about putting up a show for the crowd after sealing semis berth (WATCH)
Both players experienced difficulties with their serves throughout the match, resulting in 14 breaks of serve, matching the 14 holds. Despite the grueling conditions, Medvedev outlasted Rublev in a physically demanding encounter. After receiving a medical timeout in the second set due to the humidity, the third seed displayed trademark consistency to secure his victory.
Medvedev, the reigning US Open champion, is now chasing his second Grand Slam title, having triumphed at Flushing Meadows in 2021. His qualification for the Nitto ATP Finals was secured following his fourth-round victory against Alex de Minaur.
For Rublev, the quest for a maiden major semifinal continues as he bows out at the quarterfinal stage for the ninth time, with four of those exits occurring in New York (2017, 2020, 2022, 2023).
Also Read: US Open 2023: Rohan Bopanna and Matthew Ebden make an impressive run to reach Men's Doubles semifinals
Last Updated Sep 7, 2023, 12:11 PM IST