US Open 2023: Alcaraz talks about putting up a show for the crowd after sealing semis berth (WATCH)
Carlos Alcaraz's impressive journey in the US Open 2023 continues as he secures a spot in the semi-finals.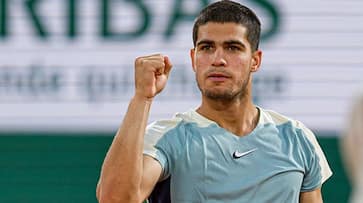 In the scorching heat of the US Open, Carlos Alcaraz, the defending champion, secured a place in the semi-finals, moving within one victory of a potential dream final against Novak Djokovic. He achieved this with an impressive straight-sets victory over the 12th-ranked German, Alexander Zverev. Alcaraz's emphatic performance dashed Zverev's hopes of an extended stay in New York after the German's marathon five-set win over Italy's sixth seed, Jannik Sinner, earlier in the tournament.
Meanwhile, Daniil Medvedev, Alcaraz's rival, endured a gruelling heatwave to join the Spaniard in the semi-finals. The punishing conditions, with temperatures hitting 35 degrees Celsius (95 Fahrenheit) and high humidity, posed a severe challenge to the players. Medvedev overcame these brutal conditions to secure a 6-4, 6-3, 6-4 victory over compatriot Andrey Rublev.
Notably, Medvedev expressed his discontent with the extreme heat, even suggesting that the conditions endangered the players' well-being. Despite the challenges, both Alcaraz and Medvedev remained determined to advance. Alcaraz, who has dropped only one set on his journey to the semi-finals, expressed his readiness for a formidable battle against Medvedev, while Djokovic is set to face unseeded American Ben Shelton in the other semi-final.
The intense heatwave in New York continues to test the resilience and adaptability of the players at the US Open, leading to extraordinary measures to cool down and cope with the challenging conditions, including the use of ice-packed towels and inhalers.
Also Read: Neymar Jr. reflects on difficult PSG stint with Messi: 'We went through hell'
Last Updated Sep 7, 2023, 11:14 AM IST