Maria Sharapova stages a comeback on the court for Pickleball Slam 2
Tennis icon Maria Sharapova stuns the sports world with her unexpected return to competitive action at Pickleball Slam 2, teaming up with legend John McEnroe to take on the formidable pair of Andre Agassi and Steffi Graf.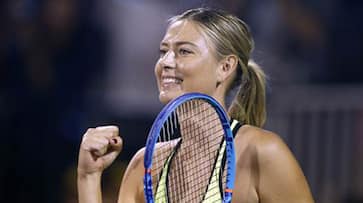 Maria Sharapova has made a surprising comeback to the world of sports, announcing her return to the court for Pickleball Slam 2, a mere three years after her retirement at the age of 32, which had left the tennis world in shock. The renowned tennis icon will team up with another legend, John McEnroe, for a thrilling pickleball match against the formidable duo of Andre Agassi and Steffi Graf.
The venue for this exciting showdown is the Seminole Hard Rock Hotel in South Florida. In a social media video, the former world No. 1 shared her enthusiasm for the upcoming competition, expressing her competitive spirit and a touch of nervous excitement. The match, which is a sole doubles contest, offers a substantial USD$1 million cash prize and promises intense sporting action.
Notably, pickleball has gained tremendous popularity, with the sport's fanbase expanding rapidly, including celebrities like Nick Kyrgios, Naomi Osaka, and LeBron James. In Australia, pickleball is also on the rise, with a considerable number of players, and Major League Pickleball Australia is set to kick off, offering substantial cash prizes.
Tennis legends Agassi and Graf, captivated by pickleball's charm after their illustrious tennis careers, eagerly look forward to the upcoming competition, ready to embrace the sport that has captivated them.
Also Read: Cristiano Ronaldo in WWE? Al-Nassr star could feature in Saudi Arabia's Crown Jewel event
Last Updated Sep 22, 2023, 11:41 AM IST