Is this the beginning of the end? Nadal's wife cries, team dejected as injury leads to Australian Open exit
Defending champion Rafael Nadal bowed out of the second round of the Australian Open 2023 on Wednesday after suffering an injury during his 6-4 6-4 7-5 defeat by American Mackenzie McDonald.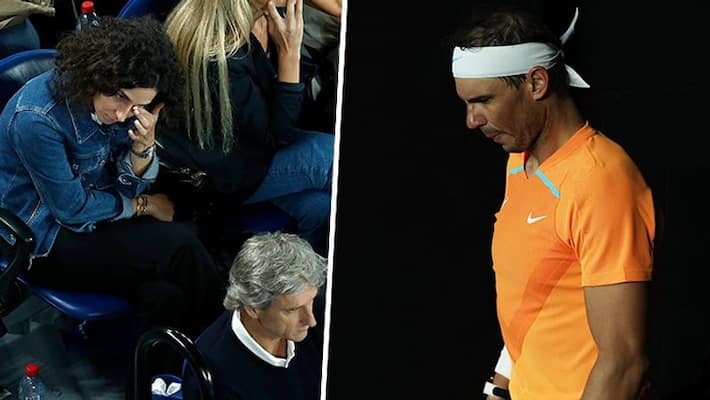 Melbourne's Rod Laver Arena witnessed a sea of emotions as defending champion Rafael Nadal bowed out of the second round of Australian Open 2023 on Wednesday after suffering what appears to be a hip injury during his straight sets loss to Mackenzie McDonald. The 36-year-old Spaniard was eliminated after losing to the American 6-4, 6-4, 7-5 and will shake up the men's draw, adding a twist to the Grand Slam race.
At Rod Laver Arena, Nadal appeared to suffer a strain in his left hip when racing for a backhand late in the second set. After receiving treatment from a trainer, he took an off-court medical timeout with the score 6-4 5-3.
Also read: Australian Open 2023: Fans applaud injured Nadal's spirit as McDonald eliminates defending champion
Nadal returned with a dejected expression to finish the match. However, it was obvious that the 22-time Grand Slam champion's movement had been compromised, especially on his backhand side, allowing McDonald to foil the Spaniard's attempt to win a third championship at Melbourne Park.
Nadal's wife, Maria Francisca Perello, coach Carlos Moya, his family and the rest of his team were heartbroken after seeing the Spaniard endure yet another injury. The defending champion's wife couldn't stop her tears, sparking concerns among fans that this was the beginning of Nadal's end.
"The beast is completely wounded, and there are already many; Although he has always drawn strength from the love he has for the sport, his fans, his family, but living with pain is not normal, it is not mentally healthy. @RafaelNadal recover soon but this time do it for you," noted one fan on Twitter.
Another added, "My heart is broken into thousand pieces right now and I have a strong lump in my throat."
Following his break, Nadal came out to the court to a loud cheer and received further acclaim as he maintained service. Though his sad countenance said it all, he refused to recover a drop-shot in the next game, shaking his head at his anxious support group. When Nadal smacked a forehand into the net, and the Spaniard thudded his racket into his chair at the change of ends, McKenzie won the second set.
McDonald broke Nadal at 6-5 in the third set as the Spaniard leaned heavily on his serve and relied on touch to take the match far into the third set. In a last-ditch effort, Nadal charged the net, but there was no chance of a replay of the "Miracle of Melbourne," in which he defeated Daniil Medvedev after falling behind two sets to one.
"You never know what to read into moments like that," Jim Courier said in commentary after the match. "You can obviously imagine he will be back, also imagine that he won't be back. This might be the last time here. Let's hope it's not. But if it is he certainly left a big mark."
"We will never know if McDonald would have won this one straight up without the injury. He was in command. He was up a set and a break when Nadal's body betrayed him," Courier added.
"McDonald was playing excellent tennis. Nadal has been struggling to find his game since he suffered an abdominal injury at Wimbledon last year. This is far more troubling for Nadal than just simply not being in form. He's now not in fitness. How long will it be before we get to see him out competing again?" he noted.
McDonald paid tribute to Nadal after the match. "It was tough to stay mentally engaged," the American said. "I found a way to pull it out. I'm happy. He's an incredible champion. He is never going to give up, regardless of the situation. Even closing it out against a top guy like that is always tough. I was trying to stay so focussed on what I was doing."
Last Updated Jan 18, 2023, 1:22 PM IST