Asian Games 2023: Ghosal advances but Chinappa bows out in squash event
In a thrilling day of squash action at the Asian Games 2023, India witnessed contrasting fortunes as Saurav Ghosal powered his way into the quarterfinals while star player Joshna Chinappa faced an unexpected exit from the women's singles event.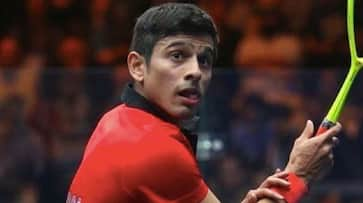 In the 2023 Asian Games, there were contrasting outcomes for two prominent Indian squash players. Joshna Chinappa, a star in Indian squash, faced an unexpected elimination from the women's singles event. Meanwhile, the seasoned campaigner Saurav Ghosal advanced to the quarterfinals in the men's singles category.
In her pre-quarterfinal match, Joshna Chinappa suffered a surprising defeat, losing 1-3 to Heo Mingyeong of South Korea, who was ranked lower at 158th. The 37-year-old Indian player, who had received a first-round bye, struggled through a match that lasted 37 minutes, with scores of 4-11, 12-10, 9-11, 8-11. This result came as a significant upset, considering that Joshna was considered a strong contender for a medal in the competition.
Joshna Chinappa had previously earned a bronze medal in the women's singles category in the 2018 Asian Games. She also boasts two silver medals and two bronze medals in team events at past Asian Games, including one from this edition. Her recent injuries and limited playing time had caused her world ranking to drop to as low as 70.
On a more positive note, another Indian player, Tanvi Khanna, comfortably advanced to the quarterfinals by defeating Arichaya Chujit of Thailand with an easy scoreline of 11-1, 11-3, 11-2.
In the mixed doubles category, the Indian pair of Anahat Singh and Abhay Singh continued their winning streak, increasing their chances of reaching the quarterfinals. They secured a convincing 2-0 victory (11-5, 11-6) against Thailand's Anantana Prasertratanakul and Arkaradet Arkarahirunya, maintaining their position atop group D.
In men's singles action, Saurav Ghosal and Mahesh Mangaonkar both enjoyed success in their pre-quarterfinal matches. Ghosal secured a commanding 3-0 victory over Kuwait's Ammar Altamimi with scores of 11-4, 11-4, 11-6, while Mangaonkar also advanced with ease, defeating Ryunosuke Tsukue 11-6, 11-2, 11-6 in another pre-quarterfinal encounter.
Also Read: Asian Games 2023: Indian Archers secure quarterfinal spots in all team events
Last Updated Oct 2, 2023, 5:04 PM IST