Asian Games 2023: Indian Archers secure quarterfinal spots in all team events
Indian archers showcased remarkable resilience and skill at the Asian Games 2023, securing coveted quarterfinal berths in all six team events.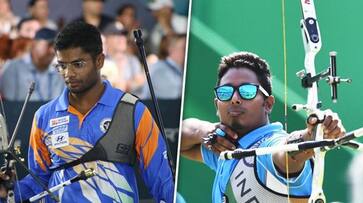 At the Asian Games in Hangzhou on Monday, Indian archers showcased resilience and skill, securing spots in the quarterfinals for all six team events. The Indian contingent displayed remarkable authority, losing just one set in five team elimination rounds en route to the quarterfinals. In the women's compound team event, India secured a bye to the quarters after topping the qualifications. The top-seeded compound mixed team of Ojas Deotale and Jyothi Surekha Vennam set the tone by eliminating UAE's Amna Alawadhi and Mohammed Binamro with an impressive score. The Indian recurve mixed pair, Atanu Das and Ankita Bhakat, demonstrated their determination as they overcame an initial setback to defeat Malaysia in a thrilling three-set match. The Indian archers are now poised for challenging quarterfinal clashes and have their sights set on securing Olympic-qualifying quota spots.
The Asian Games offer a total of six quota spots, including the recurve mixed team winners and two archers with high rankings in individual events. In the compound men's team event, the second-seeded Indian trio of Ojas, Abhishek Verma, and Prathamesh Jawkar delivered a dominant performance, defeating Singapore by a substantial margin. The compound men's team is now set to face Bhutan in the quarterfinals and may potentially clash with third-seeded Chinese Taipei in the semifinals.
The top-seeded Indian women's compound team, consisting of Jyothi, Aditi Swami, and Parneet Kaur, secured a bye into the quarters and is ready to kick off their campaign against Hong Kong. In the men's recurve team event, the third-seeded Indian team secured a comfortable victory over Hong Kong and is poised to face Mongolia in the quarterfinals. Lastly, the women's recurve team, considered underdogs, performed admirably, defeating Thailand and earning a quarterfinal matchup against Japan.
Also Read: 58 goals in 5 matches! India storm into Asian Games 2023 men's hockey semis after 12-0 win over Bangladesh
Last Updated Oct 2, 2023, 4:32 PM IST