Asian Games 2023: Tajinderpal Singh Toor wins Gold in men's shot put event
In a remarkable display of strength and skill, Tajinderpal Singh Toor secured the coveted gold medal in the shot put event at the 2023 Asian Games. His outstanding performance adds to India's growing medal tally.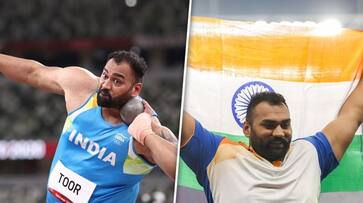 Tajinderpal Singh Toor secured a resounding victory by clinching the gold medal in the shot put event at the 2023 Asian Games. His exceptional performance and remarkable prowess in shot put showcased his dedication and skill, earning him a well-deserved place atop the podium. Tajinderpal Singh Toor's gold medal triumph adds to India's medal tally and underscores the nation's strength in athletics on the international stage.
India's Tajinderpal Singh Toor secured the gold medal in the men's shot put event at the Hangzhou Asian Games on Sunday. This victory marked India's second gold in track and field at the event. Toor joined an illustrious group of Indian shot putters, becoming the fourth to successfully defend their Asian Games title, following in the footsteps of Parduman Singh Brar (1954 and 1958), Joginder Singh (1966 and 1970), and Bahadur Singh Chouhan (1978 and 1982). Toor's journey to gold was marked by ups and downs. His initial monstrous throw, which landed around the 20m mark, was unfortunately ruled a no throw. His second attempt met the same fate. However, Toor found his rhythm in his third attempt, achieving a legal throw of 19.51m. At this point, Saudi Arabia's Mohamed Daouda Tolo led the field with a best throw of 19.93m.
Toor's determination shone through in his fourth attempt, where he unleashed a massive 20.06m throw to claim the top spot. Tolo countered with a 20.18m throw to regain the lead. Although Toor's fifth attempt was unsuccessful, he saved his best for last, delivering a phenomenal 20.36m throw in his sixth and final attempt. Tolo couldn't surpass Toor's outstanding performance and had to settle for silver. The 28-year-old Toor, a firm favorite to defend his 2018 gold, holds the distinction of being the sole Indian Asian record holder in individual events. Despite his impressive achievements, he has grappled with injuries in recent years, including a groin injury sustained during the Asian Championships in July. Despite these challenges, Toor's indomitable spirit and commitment to his sport have solidified India's legacy as a dominant force in shot put on the Asian Games stage.
Also Read: Asian Games 2023: India's Harmilan Bains secures Silver in Women's 1500m event
Last Updated Oct 1, 2023, 6:18 PM IST