Asian Games 2023: Preeti Pawar assures medal in the 54kg category; wins Olympic quota
At the Asian Games, young Indian boxer Preeti Pawar has not only secured a coveted Olympic quota but has also guaranteed herself a medal by advancing to the women's 54kg semifinals.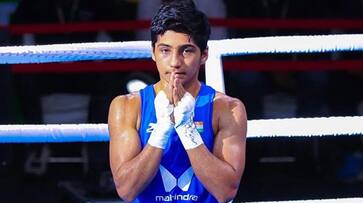 Preeti Pawar achieves an Olympic quota and secures a guaranteed medal by advancing to the women's 54kg semifinals in the Asian Games 2023. The 19-year-old Indian boxer displayed remarkable courage in a fierce quarterfinal bout against Kazakhstan's Zhaina Shekerbekova, a three-time World Championship medalist and reigning Asian champion, ultimately triumphing 4-1. Despite facing a more experienced opponent, Preeti started aggressively but had her defense tested multiple times. Undeterred, she maintained her relentless assault to secure a narrow 3-2 lead in the first round.
In her encounter with the seasoned 33-year-old adversary, Preeti strategically adjusted her approach, utilizing long-range jabs and shifting away from the center of the ring at the start of the second round. During the final three minutes, both fighters exchanged a flurry of punches, although accuracy eluded them. As the clock ticked down, fatigue began to affect Shekerbekova, while Preeti continued to land shots, ultimately clinching victory.
This follows Nikhat Zareen's achievement as the first Indian boxer to secure an Olympic quota. In the women's events, the semifinalists in the 50kg, 54kg, 57kg, and 60kg categories, as well as the finalists in the 66kg and 75kg divisions, will earn berths for the Paris Olympics. Meanwhile, Olympic quotas will be awarded to the gold and silver medalists in each of the seven weight divisions in the men's competition.
Also Read: Asian Games 2023: Silver for Sarabjot Singh and Divya TS in 10m Air Pistol mixed team event
Last Updated Sep 30, 2023, 1:20 PM IST