Asian Games 2023: Silver for Sarabjot Singh and Divya TS in 10m Air Pistol mixed team event
Sarabjot Singh and Divya TS exhibited exceptional shooting skills at the Asian Games, securing a silver medal in the fiercely competitive 10m Air Pistol Mixed team event.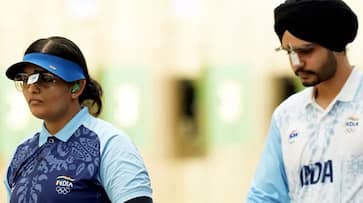 Sarabjot Singh and Divya TS represented India in the 10m air pistol mixed team event at the Asian Games, showcasing their remarkable shooting skills. Despite their impressive performance in the qualification round, where Sarabjot Singh shot an impressive 291 and Divya TS scored 286, totalling 577, securing a lead over the Chinese team, who managed a combined score of 576, they ultimately settled for a silver medal.
The thrilling finals of the event culminated in a shoot-off for the gold medal, a nail-biting moment that had spectators on the edge of their seats. In a tightly contested battle, the Chinese pair, consisting of Zhang Bowen and Jiang Ranxin, managed to turn the tables on the Indian duo. The final score stood at 16-14 in favor of the Chinese shooters, solidifying their gold medal victory.
This silver medal added to India's impressive shooting medal tally at the Asian Games, bringing their total count to 19 medals. Among these, India has secured 6 gold, 8 silver, and 5 bronze medals, reaffirming their prowess in the sport on the continental stage. Despite narrowly missing out on the gold, Sarabjot Singh and Divya TS's performance was commendable and showcased their dedication and talent in the world of competitive shooting.
Also Read: Asian Games 2023: Kiran Baliyan reveals being unaware she ended India's 72-year medal drought in shot put
Last Updated Sep 30, 2023, 12:28 PM IST