KPL 2018: Bharath Chipli leads Bijapur Bulls to narrow 2-run victory
Mysuru though kept chipping away at the wickets and at the end of the 15th over they had kept Bijapur down to 119 for 4, mostly thanks to three smart catches by KV Siddarth, who was over the place, picking his catches at midwicket, long off and long on, the first one seeing the back of a dangerous looking Kaunain Abbas (42, 24b, 4x6)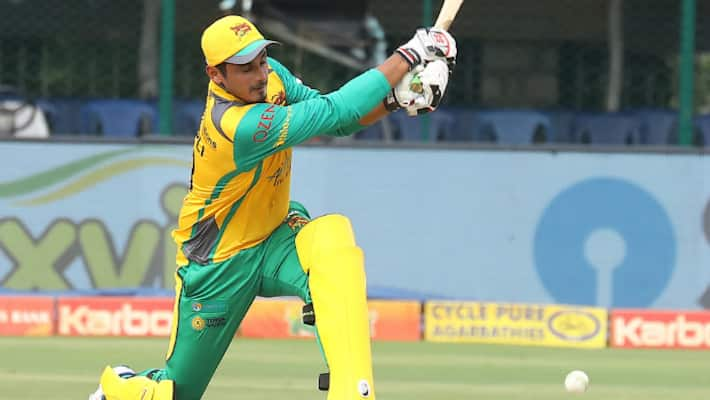 Mysuru: Bijapur Bulls needed to win to stay alive in the tournament and they did just that at the SDNR Wadiyar Stadium here on Saturday (September 1) afternoon.
Led from the front by their experienced skipper Bharath Chipli and backed up another fine spell of spin bowling by KC Cariappa, they staved off the stiff challenge posed by hosts Mysuru Warriors to just about defend the 167 for 6 that they posted after being put into bat in a Karnataka Premier League (KPL) 2018 tie.
Also read: KPL 2018 schedule
The narrow two-run loss doesn't mean Mysuru are out of the tournament, but with six points in the bag thus far and only one match to go, a semi-final spot is still touch and go for them.
On a day when the overall catching was a huge improvement on what's happened in the past, if not for yet another sitter being put down, Mysuru might well have sealed their last four place and at the same time sent Bijapur crashing out.
Chipli, who had just seen his opening partner Shishir Bhavane mistime a pull and fall to NP Bhareth in the opening over, cut Purple Cap holder Vyshak Vijaykumar straight to Shoaib Manager at point, only for the fielder to put down the straightforward chance.
Chipli, then on 9, responded with a six over cover off the same bowler and went on to make an invaluable 63 (53b, 6x4, 3x6).
Mysuru though kept chipping away at the wickets and at the end of the 15th over they had kept Bijapur down to 119 for 4, mostly thanks to three smart catches by KV Siddarth, who was all over the place, picking his catches at midwicket, long off and long on, the first one seeing the back of a dangerous looking Kaunain Abbas (42, 24b, 4x6).
However, what hurt the hosts was the 20th over sent down by Vijaykumar, the same bowler who saw Chipli being put down early on. As many as 19 runs were taken off that final over, all-rounder Suneel Raju (28, 17b, 3x6), doing the bulk of the damage as he and Shrijith KL raised 44 from 23 balls for the sixth wicket.
After that it was Cariappa's turn. Introduced in the third over, he ended the run of Mysuru's successful opening pair by having Arjun Hoysala caught in his second over. A little later Naga Bharath pulled off a great running catch to see the back of Amit Verma. And when birthday boy Rajoo Bhatkal (29, 25b, 3x4, 1x6) too fell soon afterwards, Bijapur were back in the game.
A lot of wides almost gave the game away but with Cariappa having given away only three runs in the 16th over with 48 needed from the last five, the other bowlers had the cushion to work with. Mysuru skipper J Suchith did his best but his 20-ball unbeaten 34 (3x4, 1x6) wasn't enough, not on the day.
In the second match of the day, Hubli Tigers defeated Belagavi Panthers by 44 runs.
Brief scores: Bijapur Bulls: 167/6 in 20 overs (Bharath Chipli 63, Kaunain Abbas 42, Suneel Raju 28; NP Bhareth 2-27, Prateek Jain 2-15) beat Mysuru Warriors: 165/5 in 20 overs (Rajoo Bhatkal 29,  KV Siddarth 28, J Suchith 34 not out; KC Cariappa 2-23) by 2 runs.
Hubli Tigers: 182/5 in 20 overs (Abhishek Reddy 74, Praveen Dubey 40, Vinay Kumar 21 not out, MB Darshan 18 not out; Niyaz Nizar 2-40) beat Belagavi Panthers: (Nidhish 23; Vinay Kumar 4-19, Mahesh Patel 2-25, Anil IG 2-15) by 44 runs.
Sunday's matches (September 2) - Mysuru
Shivamogga Lions vs Bijapur Bulls - 2.10 pm
Warriors vs Bengaluru Blasters - 6.40 pm
Live on Star Sports 2, Star Sports 2 HD and Hotstar
Last Updated Sep 3, 2018, 8:24 AM IST