Karnataka captain Vinay Kumar confident of India comeback; ready for Vijay Hazare Trophy with new coach
'I look at every season with the same frame of mind, that is, I need to perform well for the team. And yes, I want to come back to the Indian side. Overall, my performance has been really good in the last three to four seasons. But I need to wait for my turn and whenever I get that opportunity, I need to grab it with both hands,' said Vinay Kumar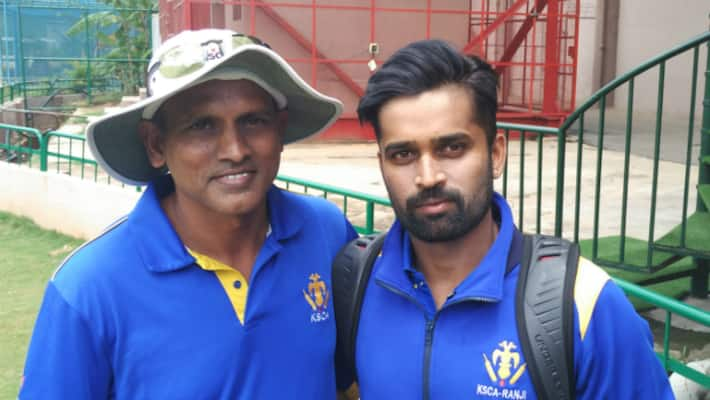 Bengaluru: A new season, a new coach but an old warhorse. R Vinay Kumar has been in the domestic circuit since 2004 and he has seen ups and downs as a Karnataka player and captain. Now, he is geared up for another fresh start, as the 2018-19 season commences with the Vijay Hazare Trophy one day tournament here on Wednesday (September 19).
The 34-year-old Vinay exuded confidence on Tuesday (September 18) after a training session at the M Chinnaswamy Stadium. He is hopeful of Karnataka defending the title which they won in February after beating Saurashtra by 41 runs. And the right-arm paceman is also aiming for a national comeback.
"It is going to be a great season. If you see, as a team we have done so well in the last three to four years but could not win major tournaments in last two-three years. I am very much happy that we won Vijay Hazare Trophy last season," Vinay started off.
"And if you look at the Karnataka squad, most of them went on to play the next level (national team). That itself is a positive development. If all the players play to their potential we can bring back that glorious run of few years back and win all the trophies (Ranji Trophy, Vijay Hazare Trophy, Irani Cup) again. I will not say it will be easy but if you take one game at a time, definitely we can do that," he added.
Vinay, who played one Test, 31 ODIs and nine T20Is for India, has not been in the national reckoning for some time now. However, he has not lost hope. He says that he is ready to bide his time. He has not played for India since November 2013.
"I look at every season with the same frame of mind, that is, I need to perform well for the team. And yes, I want to come back to the Indian side. Overall, my performance has been really good in the last three to four seasons. But I need to wait for my turn and whenever I get that opportunity, I need to grab it with both hands. Till that time, I need to be patient. I want to take it one game at a time and every match is important for me. I want to perform well in all three departments - batting, bowling and fielding. Overall, if I keep doing well, I will get a call up to the Indian team," Vinay explained.
Karnataka will have two new coaches his season. Former State batsman Yere Goud and the recently retired left-arm fast bowler S Aravind are part of the coaching staff.
On the coaching duo, the  skipper said, "Yere has played more than 100 first-class matches and he was Karnataka captain. I have played under him. I know what kind of a person he is. His inputs will be very crucial for us. He is a positive guy. At the same time, Aravind has played with us till the last year and done well. Having him as the bowling coach, it will help. Our core group remains the same (from last year). I won't say Aravind is not part of the 11 but he is still part of the group. Overall, it is a happy side and we will do well."
New coach speaks
Goud said he was "fortunate" and "blessed" with the current group of Karnataka players.
"I am fortunate and blessed to have such kind of a squad. Some of them are trying to make a comeback to the Indian team and some have been playing for India A and some are currently in the national side. With Vinay being the leader, to be honest, my job is slightly easier than what is expected (of me)," Goud, who played 134 first-class matches, said.
On asked about his coaching method, the 46-year-old said, "My philosophy is, how best the team can play the game, mentally, physically, tactically and technically. That is what I am looking at. I am not looking from a result point of view but playing at our best. I am looking at how best a player can play on a particular day."
Goud, who has coached junior Karnataka teams, said there was always pressure managing a senior side and added that he doesn't believe in setting goals before the season.
"Be it any championship, as a Karnataka team, there is always pressure. We need to accept that pressure and move forward. If I set a goal and start thinking of that, it doesn't help. It will indirectly put pressure on the team. We are looking at how best we can play. Not thinking of any goals," the coach said.
Karnataka are in Elite Group A with Baroda, Goa, Himachal Pradesh, Maharashtra, Mumbai, Punjab, Railways and Vidarbha. They open their title defence against Maharashtra at M Chinnaswamy Stadium on Thursday (September 20).
This year, the format of Vijay Hazare Trophy is changed with 37 teams in the fray. Group A, B and C are part of Elite Pools with sides of nine, nine and 10 respectively. The Plate Group has nine.
The top two finishers in Group C and Plate Group topper will grab the three slots in quarter-finals while the 18 teams from A and B are combined after the league stage and top five will go through to the knockouts.
The top two from Group C will get promoted to Elite A and B next season and the Plate Group winner gets elevated to Elite C.
Karnataka squad
R Vinay Kumar (captain), Mayank Agarwal, R. Samarth, Karun Nair, Pavan Deshpande, Stuart Binny, CM Gautam, K Gowtham, Shreyas Gopal, A Mithun, Prasidh Krishna, J Suchith, Abhishek Reddy, MG Naveen, BR Sharath.
Coach: Yere Goud. Bowling coach: S Aravind. Manager: Anuthosh Poll.
Last Updated Sep 19, 2018, 9:29 AM IST