IPL 2018: Rajasthan Royals beat Delhi Daredevils by 10 runs via DLS method
Rajasthan Royals beat Delhi Daredevils by 10 runs via DLS method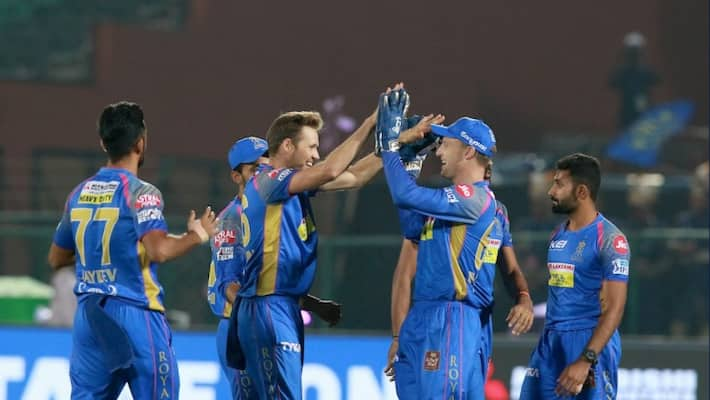 The Ajinkya Rahane-led Rajasthan Royals registered their first win of the season 11 when they beat Delhi Daredevils at the Sawai Mansingh Stadium on Wednesday by 10 runs via Duckworth-Lewis method.
The win will be a memorable one for Rajasthan Royals since this was their first IPL home game in five years.
While Rajasthan Royals scored 153 runs and lost 5 wickets by the end of 18th over, rain played spoilsport and the match had to be stopped.
Match resumed again at around 11.55 pm and Delhi Daredevils were given a revised target of 71 runs to be scored in 6 overs. But the Rajasthan bowlers were successful in stalling Gambhir's boys to 60 runs.
Delhi Daredevils Innings
| | | | | | | |
| --- | --- | --- | --- | --- | --- | --- |
| BATSMEN | Dismissal | RUNS | BALLS | 4S | 6S | S.RATE |
| Glenn Maxwell | c J Buttler b B Laughlin | 17 | 12 | 2 | 1 | 141.67 |
| Colin Munro | Run Out (J Buttler/K Gowtham) | 0 | 0 | 0 | 0 | 0.00 |
| Rishabh Pant (wk) | c K Gowtham b J Unadkat | 20 | 14 | 3 | 0 | 142.86 |
| Chris Morris | Not Out | 17 | 7 | 2 | 1 | 242.86 |
| Vijay Shankar | c B Stokes b B Laughlin | 3 | 3 | 0 | 0 | 100.00 |
| *Shreyas Iyer | Not Out | 0 | 0 | 0 | 0 | 0.00 |
60 runs for 4 wickets in 6 overs (DLS)
Rajasthan Royals Innings
| | | | | | | |
| --- | --- | --- | --- | --- | --- | --- |
| BATSMEN | Dismissal | RUNS | BALLS | 4S | 6S | S.RATE |
| Ajinkya Rahane (c) | c C Morris b S Nadeem | 45 | 40 | 5 | 0 | 112.50 |
| D'Arcy Short | Run Out (V Shankar) | 6 | 3 | 1 | 0 | 200.00 |
| Ben Stokes | c R Pant b T Boult | 16 | 12 | 1 | 1 | 133.33 |
| Sanju Samson | b S Nadeem | 37 | 22 | 2 | 2 | 168.18 |
| Jos Buttler (wk) | b M Shami | 29 | 18 | 2 | 2 | 161.11 |
| Rahul Tripathi | Not Out | 15 | 11 | 0 | 1 | 136.36 |
| Krishnappa Gowtham | Not Out | 2 | 1 | 0 | 0 | 200.00 |
153 runs for 5 wickets in 17.5 overs
Last Updated Apr 12, 2018, 1:34 AM IST