Hockey World Cup 2023 Final: Germany edges Belgium on penalties to win 3rd championship; wishes pour in
Hockey World Cup 2023: The final was held in Bhubaneshwar on Sunday. As Germany and Belgium clashed, it was a competitive clash decided on penalties, with the former edging past the latter and winning its third championship.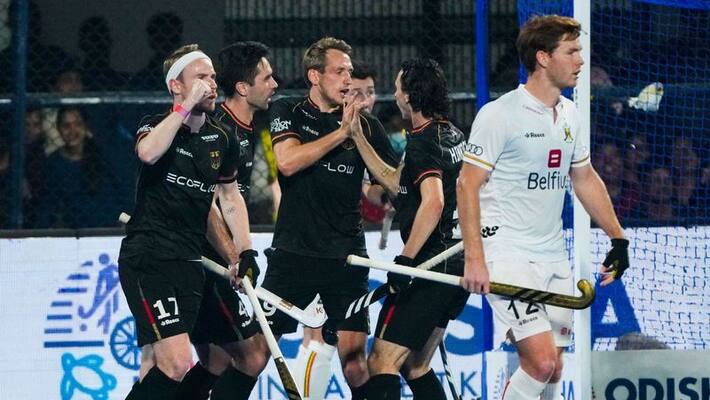 The 2023 FIH Men's Hockey World Cup concluded on Sunday. Playing at the Kalinga Stadium in Bhubaneshwar, Germany was up against defending champion Belgium, which turned out to be a competitive contest, ending 3-3 in regulation time. As it moved into the penalty shootout, the former edged past 5-4, thus winning its third world title. It all began in the tenth minute, with Florent van Aubel putting the Belgians ahead, followed by Tanguy Cosyns doubling it in the 11th. Nonetheless, the Germans bounced back, with Niklas Wellen pulling one back in the 29th through a penalty corner, as Belgium led 2-1 at the half-time break.
In the 41st, Gonzalo Peillat scored through a PC, as Germany drew level before skipper Mats Grambush put the side into the lead seven minutes later. However, the Legians equalised at the 59th, with Tom Boon scoring through a PC, with things heading into the shootout. There were only two bookings in the contest, with Timur Oruz of Germany being green-carded in the 35th, while Nicolas de Kerpel saw the same colour in the 40th.
ALSO READ: Hockey World Cup 2023 Social media shocked as Netherlands pounds Australia 3-1 to take 3rd spot
During the shootout. Wellen, Hannes Muller and Thies Prinze found the back of the net for the Germans, while for Belgium, it was van Aubel, Cosyns and Antoine Kina. After the regulation ended 3-3, things moved into sudden death. In the first stroke, Wellen and van Aubel hammered the ball in. In the following stroke, while Prinz pummelled it in, Cosyns's shot was denied by German goalkeeper Jean-Paul Danneberg, as the German camp went frenzy in with its third world title victory.
Last Updated Jan 29, 2023, 9:41 PM IST