Hockey World Cup 2023: 'All players are very experienced' - Belgium coach Heuvel ahead of title defence
Hockey World Cup 2023: Belgium shocked the world by winning the title in 2018. As it prepares to defend its maiden title, head coach Michel van den Heuvel has assured that his players are experienced enough to know their roles.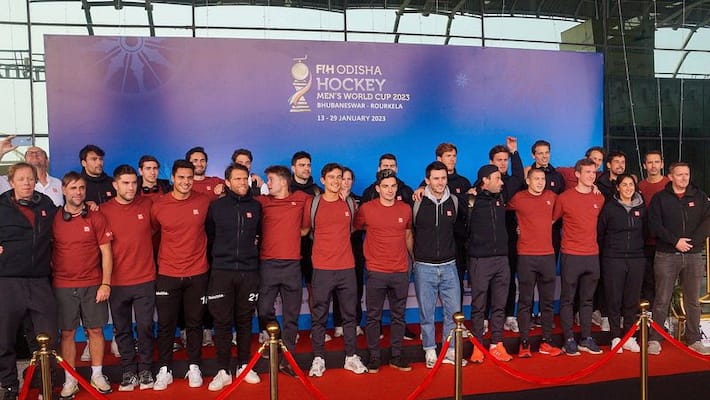 Defending champion Belgium will bank on seasoned mid-fielders like John-John Dohmen to provide the winning momentum in its bid to retain the FIH Hockey World Cup 2023 in Odisha, which gets underway on January 13. Head coach Michel van den Heuvel stated that players like Dohmen, with more than 400 international caps, will benefit the Olympic champion considerably in its campaign. The defending champion is pitted alongside Germany, Japan and Korea in Pool B. It will face Korea on January 14.
"Well, all of them are very experienced, and they know the game. They [players like Dohmen] had played here before and won the trophy. So, even though we are under difficult circumstances this time, their presence will help the team. It's so great to have them in our squad," noted Heuvel.
ALSO READ: Hockey World Cup 2023 - Odisha CM Patnaik announces Rs 1 crore reward for each player if India wins title
Suppose the Red Lions, led by Felix Denayer, can defend the title here. In that case, it would become only the fourth nation after Pakistan (1978, 1982), Germany (2002, 2006), and Australia (2010, 2014) to win two successive editions of the men's hockey WC. "We are well prepared. We had been to a training camp in Spain where we won all our games. So, our camp has a lot of confidence that we will do well in the tournament. But obviously, we know it's always a tough competition, so we are excited to get started," Denayer declared on Friday.
Listing the side he accepts would pose a challenge for Belgium; Denayer said Australia, Netherlands, and Germany would be authoritarian, while India would appreciate the home advantage. "There are a lot of favourites, I think. I think the Netherlands, Germany, and India at home are always strong opponents in Australia. Then, some teams are performing well, such as England, and Argentina, so I think it will not be an easy competition for anyone," expressed the skipper.
ALSO READ: New Year 2023: Hockey World Cup to ICC World Cup - Sporting events to look out for
Remembering the exciting final between his team and the Dutch during the 2018 edition, the captain spoke about the same passionate drama that could also be caught this time. The 2018 final, decided by a shoot-out, had witnessed a lot of drama after Arthur de Sloover's endearing stroke in the shoot-out was disowned after a review, and the Belgium side had to stop its festivities halfway.
But Belgian goalkeeper Vincent Vansach made Dutch player Jonas de Geus miss his absolute stroke, and the extravaganzas re-started in the Belgium camp. The Red Lions won 3-2 after the game had terminated in a goalless draw. If identical scenes could be noticed during this edition of the World Cup, Denayer sounded, "Yeah, I think the tournament will be a challenge, but we also have the experience, so we feel confident, and we are hungry to retain the trophy. We are an ambitious group. And, we need these kinds of challenges to perform at our best level."
ALSO READ: Hockey World Cup 2023 - India drawn against England, Spain and Wales in Group D
Shane McLeod, who led Belgium to the WC and Tokyo Olympics 2020 title bests, is the assistant coach, and the players will also draw from his background from the 2018 WC.
(With inputs from PTI)
Last Updated Jan 6, 2023, 3:44 PM IST