Asian Games 2023: India beat defending champion Japan 4-2 in men's hockey pool stage
India showcased its hockey prowess by securing a commanding 4-2 victory over Japan in the Asian Games 2023 men's hockey pool stage.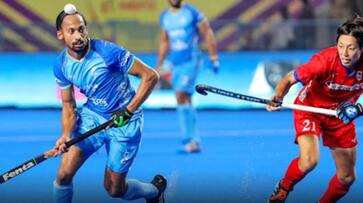 India dominated Japan with a 4-2 scoreline, Abhishek scores twice and Varun Kumar managed to convert a penalty corner in the game and the rest of the squad was also at their best. India has smoothly sailed through the initial two matches of the pool stage, as anticipated. Harmanpreet Singh's squad is the clear frontrunner for gold, given their impressive performance in the lead-up to this competition and have done exceedingly well so far.
It's worth noting that they were also favored to clinch gold at the 2018 Asian Games but had to settle for bronze. Japan, the reigning Asian Games champions, is their opponent today. Although India was unexpectedly held to a draw by Japan at the Asian Champions Trophy, they secured a resounding victory over the Asian Games gold medalists in their second encounter in that tournament. Nonetheless, this encounter in Hangzhou could be considered the Indian men's hockey team's first significant challenge this year.
Also Read: Heartbreak! Indian football team knocked out of Asian Games 2023 after 0-2 defeat to Saudi Arabia
Abhishek, Mandeep Singh, and Amit Rohidas each found the back of the net for India, while Japan managed to score two late goals in the Pool A match but fell short of defeating India. Next up, the Indian men's hockey team is scheduled to face Pakistan this Saturday in Hangzhou.
Last Updated Sep 28, 2023, 8:33 PM IST