Was Argentina's Messi lifting 'fake' World Cup 2022 trophy in record-breaking Instagram photo?
Argentinian legend Lionel Messi's record-breaking Instagram photograph, which saw him get more than 74 million likes, reportedly featured a 'fake' Qatar World Cup 2022 trophy.
Argentinian legend Lionel Messi's record-breaking Instagram photograph, which saw the 35-year-old get more than 74 million likes, reportedly featured a 'fake' Qatar World Cup 2022 trophy. After a thrilling penalty shootout victory over France, a snap of the Argentina star raising the trophy into the air made history by surpassing "The Egg" as the most-liked image on the photo-sharing app.
Also read: World Cup done, Champions League next: Lionel Messi gears up to win big for PSG
However, two fans have now revealed to the Argentinian publication Clarin that the trophy Messi was holding in the on-field pictures was a fake. FIFA is said to have taken the actual trophy, as is customary, just after president Gianni Infantino gave it to the Paris Saint-Germain (PSG) star for the podium shots.
Paula Zuzulich, an Argentina fan who was present Qatar for the showpiece event, told Clarin, "Before the World Cup we got in touch with people who make trophies and it took six months to make it."
"The idea was to get the players to sign it, but in the end, it was taken down to the pitch three times. First a member of [Leandro] Paredes' family got him to sign it. The second time we were asked for it, it was down there for 45 minutes, being passed from one player to another, from one relative to another, while photos were taken," Zuzulich added.
"FIFA security arrived and asked us to hand it over to make sure it wasn't the original. There are some details, marks and reliefs that are not similar, but the difference is minimal," she remarked.
Also read: 'Where's Mbappe?': PSG fans raise eyebrows after Messi receives world champion welcome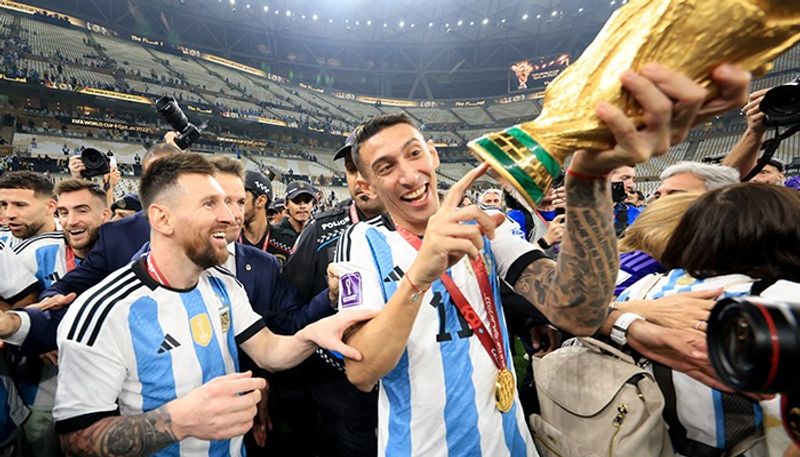 It took Angel Di Maria's keen eyes to spot the difference between the original and the replica trophy on the bottom of the trophy, and he pointed it out to Messi, who could appreciate its humour. Photographers saw Di Maria pointing to the bottom of the replica and then laughing with the seven-time Ballon d'Or winner over their misunderstanding.
The replica tricked more than just Messi, and it will live on in infamy after taking centre stage in the all-time most popular Instagram picture. 
Also read: Fan who tattooed Messi's name on forehead after Argentina's World Cup 2022 win trolled for regretting decision
"WORLD CHAMPIONS!!!!!!! I dreamed it so many times, I wanted it so much that I still haven't fallen, I can't believe it. Thank you very much to my family, to all who support me and also to all who believed in us. We demonstrate once again that Argentines when we fight together and united we are capable of achieving what we set out to do. The merit belongs to this group, which is above individualities, it is the strength of all fighting for the same dream," wrote Messi in the historic post's caption.
Chris Godfrey previously held the record for "likes," uploading a picture of an egg in January 2019. The goal was to surpass the Instagram post with the most likes at the time, a photo of Kylie Jenner's daughter, which had 18.6 million likes. The posting ultimately received 56.1 million likes.
It eclipsed Cristiano Ronaldo's tweet from November, which garnered 42.6 million likes and featured the Portuguese star and Messi playing chess in a Louis Vuitton World Cup advertisement.
Also read: Messi vs Ronaldo shifts to battleground Instagram; will Argentina's World Cup hero overtake arch rival?
Last Updated Jan 5, 2023, 6:28 PM IST