Should Mbappe take over France's captaincy from Lloris? Former PSG star Rothen gives scathing response
Tottenham Hotspur goalkeeper Hugo Lloris announced his international retirement earlier this week, which means France must now appoint a new captain with all eyes on whether Kylian Mbappe will take over the armband.
A month after France lost to Argentina at the Qatar World Cup 2022 final, French football is experiencing a seismic upheaval. Earlier this week, coach Didier Deschamps' contract was renewed until FIFA World Cup 2026, which sparked a massive outburst from fans of renowned footballer Zinedine Zidane, who was pegged to take over as the new team coach.
Also read: Ligue 1 2022-23: 'Important to have Messi back at the heart of our game' - Galtier after PSG trumps Angers
What followed was drama as French Football Federation (FFF) President Noel Le Graet 'disrespected' Zidane, which stirred a massive outburst resulting in the 81-year-old Frenchman's ouster from the FFF and Philippe Diallo taking over as interim chief. 
The latest crisis has engulfed the whole French soccer community as an audit into the FFF amid charges of sexual harassment continues, and even French President Emmanuel Macron is rumoured to have weighed in by seeking to position Michel Platini to succeed Le Graet. 
One voice, nevertheless, has undoubtedly been heard louder than all others regarding Zidane and Le Graet's lack of respect: Kylian Mbappe, the star forward for Paris Saint-Germain and the 2022 World Cup Golden Boot winner. The 24-year-old is one of, if not the, most famous faces in the highly politicised world of international football.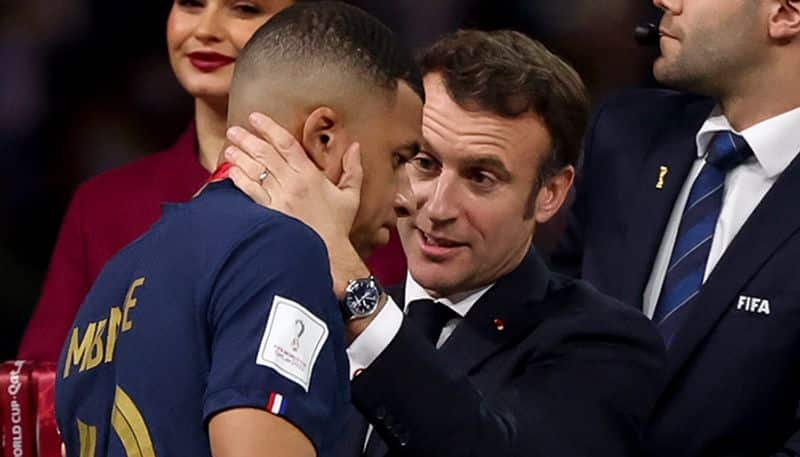 Hugo Lloris of Tottenham Hotspur announced his international retirement against this backdrop, necessitating the appointment of a new captain for Les Bleus. This will be one of Deschamps' first duties as he begins his preparations for UEFA Euro 2024 and beyond.
Also read: Zidane vs FFF's Noel Le Graet: Real Madrid fans applaud club for standing up against 'disrespect' to legend
Raphael Varane, a defender for Manchester United, is the current vice-captain and, despite being under 30, has a lot of experience. However, there is no denying that Mbappe is the standout player for this French team and possibly one of the most influential figures in the entire nation.
However, former PSG and France winger Jerome Rothen has spoken against the popular opinion and has declared that Mbappe is not captain material. According to Rothen, Deschamps dislikes it when his captains cause a scene or give the media a lot to write about. Making the PSG sensation captain would represent a shift in the way people think since he is not the austere and restrained character that Lloris was.
"It would go against Deschamps' nature [to make Mbappe captain]," Rothen told RMC Sport.
"He never wants to make noise with his statements. For example, when Lloris was captain, he was so because, beyond being a remarkable player, he was never a media darling. Mbappe will never respect Deschamps' wishes in press conferences if he names him captain," he added.
"I don't think [Deschamps] will name Mbappe captain. He makes too much noise, reacts too much, and Deschamps is the opposite. To light fires in press conferences, he won't allow his captain to express himself like that. When there's a fire, the captain should often try to put it out. Being frank as he is, Kylian would pour petrol on it," Rothem added.
Also read: Messi, Mbappe, Haaland or Lewandowski: Who has the most goals in the first two years of the 2020s?
On Tuesday, PSG boss Christophe Galtier too reflected upon Mbappe's chances of becoming captain of France. "I am not Didier and I do not think that he will make a wrong decision (regarding Lloris' replacement). Kylian is 24 with a lot of experience and some incredible performances under his belt. Being captain is responsibility -- with or without the armband, Kylian is a team and locker room leader," he said.
Last Updated Jan 12, 2023, 3:17 PM IST