Ronaldo ready for Al-Nassr vs Al-Ittihad Saudi Super Cup clash: Date, time, venue, tickets and where to watch
Cristiano Ronaldo is gearing up for Al-Nassr's clash against Al-Ittihad in Thursday's Saudi Super Cup semi-final clash. Here's all you need to know about the Portuguese talisman's second game for his new club.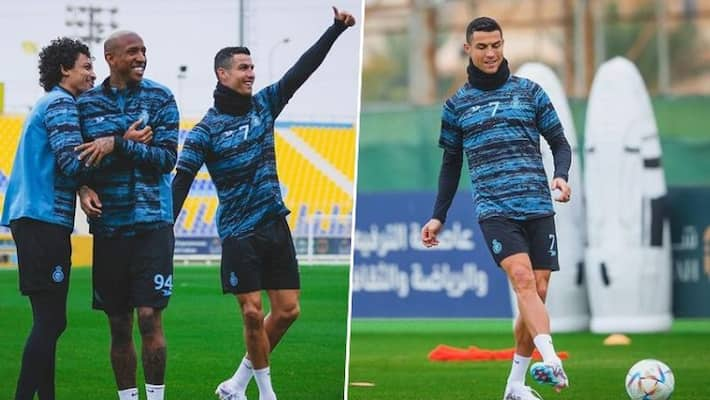 Legendary striker Cristiano Ronaldo will look to create an impact on Saudi Arabian soil as Al-Nassr gear up for their Saudi Super Cup semi-final clash against Al-Ittihad on Thursday. The Portuguese talisman, who made his debut for his new club against Ettifaq over the weekend, will look to score his first goal for the Saudi Pro League leaders.
Ronaldo signed for Al-Nassr last month after his uncermonious departure from Manchester United following an explosive interview with Piers Morgan, where he slammed the club and manager Erik ten Hag. Since signing a 175 million pounds per year deal will Al-Nassr, the 37-year-old striker has played two games on Saudi Arabian soil, including a friendly against arch-rival Lionel Messi and Paris Saint-Germain (PSG) last week. PSG beat a combined XI of Al-Nassr and Al-Hilal stars 5-4 to lift the Riyadh Season Cup - a game which saw Messi score one and Ronaldo score two goals.
Ahead of the Saudi Super Cup semi-final clash against Al-Ittihad, Al-Nassr boss Rudi Garcia has explained what his team needs to do to work better with Ronaldo on the pitch. "Obviously, Ronaldo asks for the ball a lot. We have to give him the ball because he is a player who makes a difference. We need to work on that," the Frenchman said.
Earlier, Garcia had asked his players to play usually and strive for equal use of Talisca and Ronaldo. The Saudi Super Cup semi-final between Al Nassr and Al Ittihad on January 26 may feature the five-time Ballon d'Or winner.
Here's all you need to know about Al-Ittihad vs Al-Nassr's clash in the Saudi Super Cup semi-final:
When, what time and where will Ronaldo and Al-Nassr face Al-Ittihad?
Date: January 26, 2023
Time: 11:30 PM IST
Venue: King Fahd International Stadium, Riyadh
Are tickets for Al-Ittihad vs Al-Nassr available?
For all those who want to see Ronaldo and Al-Nassr stars in action against Al-Ittihad at the Saudi Super Cup semi-final can buy tickets here: https://www.ticketmx.com/en/d/2970/al-ittihad-fc-x-al-nassr
Where to watch live streaming of the Al-Ittihad vs Al-Nassr clash in India?
The Saudi Super Cup semi-final match will not be broadcast in India. However, fans in India can watch the match via OTT app Shahid-MBC.
Al-Ittihad vs Al-Nassr prediction
With Cristiano Ronaldo among their ranks, Al Nassr has been in great form this year and can dominate the nation's domestic competitions. The Portuguese superstar, who has yet to net a league goal for the opposition, will try to help his team this week.
Al-Ittihad is equipped with a strong squad and is more than capable of defending its position. On paper, Al Nassr has a superior team; thus they ought to be able to win this match.
Prediction: Al-Ittihad 1-2 Al-Nassr
Last Updated Jan 25, 2023, 1:27 PM IST