Riyadh XI vs PSG: Young Messi's reaction upon seeing Ronaldo before first-ever clash of the titans goes viral
Ahead of the highly-anticipated Cristiano Ronaldo vs Lionel Messi clash in Riyadh on January 19, old footage of the former Barcelona legend greeting the former Manchester United icon before their first-ever clash has gone viral.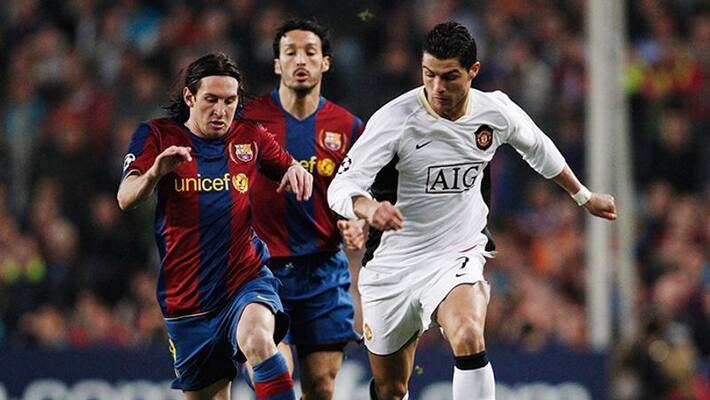 The stage is set for the last encounter between two of the greatest footballers of the modern era - Cristiano Ronaldo vs Lionel Messi. The rivalry, which has gripped the sport for over a decade, has captured the imagination of fans worldwide as they gear up for perhaps their final encounter. 
On January 19, Ronaldo will lead a combined XI of Al-Nassr and Al-Hilal stars, called Riyadh XI or Saudi All-Star XI, against Messi's Paris Saint-Germain (PSG) in a friendly exhibition at the King Fahd Stadium. The game will be the Portuguese talisman's debut on Saudi Arabian soil and will take place at 10:30 PM IST.
Also read: Ronaldo vs Messi in Saudi Arabia: Date, time, venue, tickets, where to watch in India and more
Ahead of the Ronaldo vs Messi clash, an old footage of a young Messi, who was then playing for Barcelona, greeting the former Manchester United star has gone viral. The video shows Messi all smiles to see Ronaldo and greets the Portuguese legend as both teams line up for their UEFA Champions League semi-final first-leg at Camp Nou on April 23, 2008. That match ended 0-0, and to date, it is the only goalless draw to feature both the football icons.
"Messi saw the competition early," noted one fan on Twitter, while another added, "Why do people not understand that they like each other."
"Great Recognize Great," noted a third user, while a fourth stated, "If only they both realized they were going to shape football for decades to come…"
While the April 2008 encounter saw the first time Ronaldo and Messi faced each other, the last time football enthusiasts saw the two arch-rivals play together was on December 8, 2020, during their Champions League Group G stage match at Camp Nou. Juventus easily defeated Barcelona 3-0 in a match in which Ronaldo scored two penalties, one before halftime and the other after. Weston McKennie added the third.
Also read: Messi and Mbappe return to Qatar one month after epic World Cup final for PSG's winter tour
As fans await to see what transpires during Thursday's Saudi All-Star XI vs PSG, Ronaldo and Messi lovers have reignited the G.O.A.T. debate, a month after the PSG star's fans claimed the discussion was settled given the Argentinean lifted the World Cup 2022. Will Ronaldo fans witness a 'Siuuu' celebration on January 19, or will Messi supporters see the PSG star continue his dream run - only time will tell.
Last Updated Jan 19, 2023, 1:32 PM IST