Real Madrid youth players arrested in adult video scandal involving minor
Spanish police have arrested three Real Madrid youth players in connection with a sex video featuring a minor, while a fourth player is under investigation. The incident came to light following a complaint filed by the mother of a 16-year-old girl who appeared in the video.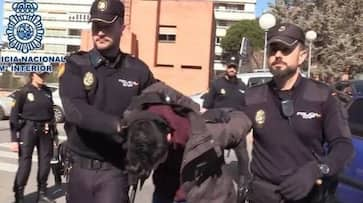 Three Real Madrid youth players have been apprehended in connection with a adult video involving a minor, as confirmed by a spokesperson for the Spanish police. The arrests were made at Real Madrid's training facility following a complaint filed in the Canary Islands by the mother of a 16-year-old girl who is featured in the video. The players, aged between 21 and 22, were taken into custody on suspicion of disseminating a sexually explicit video featuring an underage individual.
After being questioned and having their mobile phones examined, the players were subsequently released. Additionally, a fourth youth player from Real Madrid is currently under investigation in relation to the same incident.
In an official statement, the club acknowledged that a player from Real Madrid's Castilla, the second team, and three players from Real Madrid C, the third team, had provided statements to the Guardia Civil regarding a complaint about the alleged sharing of a private video via WhatsApp. The club also stated that it would take appropriate action once it has a comprehensive understanding of the situation.
El Confidencial, an online newspaper that initially reported on the incident, citing sources close to the investigation, revealed that the primary focus of the inquiry is a Real Madrid C player who purportedly recorded consensual sexual activity with a 16-year-old and subsequently shared the video with other players on WhatsApp without her consent.
Also Read: Premier League 2023/24: American firm 777 Partners take over Everton; read club statement
These arrests coincide with a broader debate on sexism in Spain, initiated by a scandal involving a kiss on the lips by former Spanish football federation president Luis Rubiales towards World Cup winner Jenni Hermoso. This incident, which occurred during last month's Women's World Cup final, led to Rubiales' resignation and a provisional suspension by FIFA. Rubiales is scheduled to appear in court on Friday in connection with the alleged unwarranted kiss.
Equality Minister Irene Montero expressed her perspective on social media, emphasizing that the dissemination of sexual content without consent constitutes sexual violence and highlighting the importance of protecting the rights of all women while extending her support to the victim and her family.
Also Read: FIFA Best Men's Player Award: Ronaldo, Vini Jr fans miffed; Messi, Haaland and Mbappe supporters rejoice
Last Updated Sep 15, 2023, 7:13 PM IST