PSG star Neymar offers himself to Barcelona after Lionel Messi snubs club to join Inter Miami?
Hours after Lionel Messi snubbed Barcelona to join MLS side Inter Miami, reports have suggested PSG star Neymar has offered himself to the Catalan club.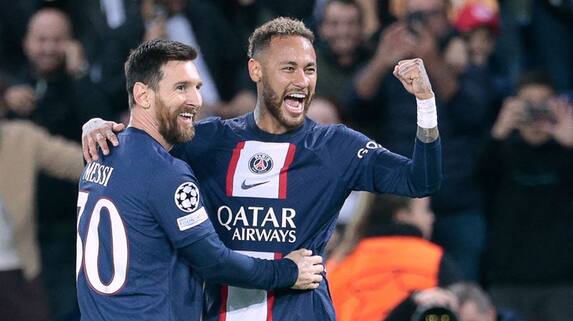 Legendary forward Lionel Messi shocked football fans worldwide on Wednesday night by snubbing a return to Barcelona and deciding to join Major League Soccer (MLS) side Inter Miami. The former Paris Saint-Germain (PSG) star confirmed his club future in an interview with Mundo Deportivo stating, "I will not return to Barcelona, I will join Inter Miami."
Also read: Cristiano Ronaldo fans carpet bomb Lionel Messi with memes after Argentine joins MLS side Inter Miami
"I made the decision to go to Miami. I still haven't closed it 100% and there are some things missing, but well, we decided to continue the journey there. The truth is that I had offers from another European team, but I didn't even evaluate it because in Europe my idea was only to go to Barcelona. After winning the World Cup and not being able to go to Barça, I had to go to the American league to experience football in a different way and enjoy the day to day," Messi added.
Given that Messi was Barcelona's top target, the La Liga champion's transfer plans are in a state of flux as a result of the Argentine's decision to sign with Inter Miami. While the Blaugrana come up with a backup plan, Neymar, a former player and PSG superstar, has reportedly offered his services to Barcelona.
The Brazilian international is reportedly eager to secure a return to Catalonia and would be willing to cut his pay to do so, according to a report from SPORT.
Barcelona has made it obvious that they want to add a star player to their roster this summer. The La Liga winners are looking to add a top-tier player who can have a significant impact on the pitch, and Messi had been targeted for that position.
Barcelona manager Xavi Hernandez had prepared his team for the upcoming season with the captain of Argentina. However, it was not to be as the 35-year-old decided to join Inter Miami despite the club's lack of assurances on his registration.
Also read: Lionel Messi to Inter Miami: Did David Beckham ruin Barcelona & Al-Hilal's party during World Cup 2022 itself?
The Blaugrana now have the chance to re-sign Neymar, who is prepared to leave PSG this summer, as the Messi option is no longer an option.
Between 2013 and 2017, the 31-year-old spent four years at Camp Nou before departing for PSG in a transfer that set a global record and cost 222 million euros. The Brazilian has not always had easy sailing in the French city, and this summer a breakup is in the cards.
Neymar is prepared to reduce his compensation, but Barcelona may discover that PSG's demands are beyond their means considering that the Brazilian still has two years left on his deal with the Ligue 1 winners.
Last Updated Jun 8, 2023, 3:24 PM IST