Manchester Derby: City boss Guardiola reveals 'ridiculous' tactical ideas in mind for United clash
Manchester City's boss Pep Guardiola has 'ridiculous' tactical plans swirling in his head before Saturday's derby against Manchester United.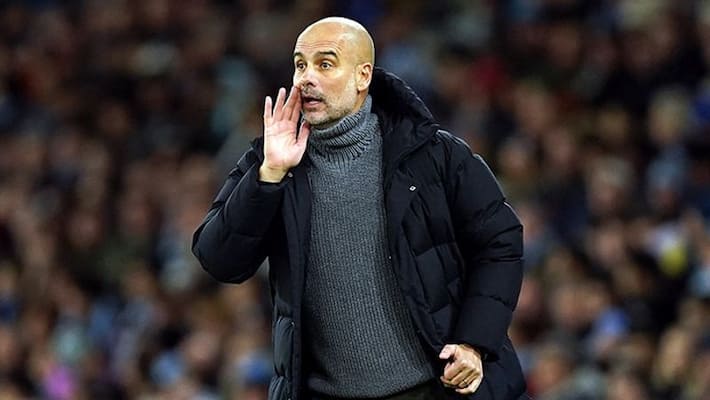 Ahead of Saturday's highly-anticipated Manchester derby against United, City's boss Pep Guardiola has 'ridiculous' tactical ideas running through his head. If Manchester City wins at Old Trafford, where Guardiola has won six games in nine trips, they will be two points behind Premier League leaders Arsenal.
Three years ago, the City manager used two midfielders as false nines during a convincing Carabao Cup victory at United. Kevin De Bruyne stated that it only took the players 15 minutes to perfect the move during practice.
Also read: Messi, Mbappe, Haaland or Lewandowski: Who has the most goals in the first two years of the 2020s?
Guardiola is not afraid to change things up; this season, he started Joao Cancelo as a right winger for away games against Liverpool and Chelsea. He also might have another surprise in store.
"I would like to arrive against United with the average of minutes in the legs of the players being quite similar because I have a few ideas, some thoughts, ridiculous ones against United," Guardiola said.
"But still, I didn't watch their last games. I have to see the way they play at home and if they change something. I still have to review it. That is why I don't have a clear line-up against United," the Man City boss added.
In a challenge to Kalvin Phillips to unseat Rodri as the team's preferred central midfielder, Guardiola said that the 27-year-old is set to make his full debut against Southampton in the Carabao Cup on Wednesday night.
"It depends on him if he can fight with Rodri — the big clubs have to have this. He has to fight with Rodri for the benefit of all of us. Rodri cannot slip for the feeling he has someone close to him," the City manager said.
"With the duels especially, Kalvin understands when the ball is coming and is strong in the air. He has the quality to break lines, wide and inside. He has to improve the reception of the ball from our central defenders and this is a question of time," Guardiola added.
"He's a national team player. He played amazingly at the Euros. He has mentality, resilience, fight — many attributes that meant he could settle with us and I'm convinced it's going to happen," he remarked.
Also read: Should Pochettino replace Potter as Chelsea manager? Blues' fans give ultimate verdict
Guardiola also suggested that neither Erling Haaland nor De Bruyne will start at St Mary's after the duo sat out the FA Cup 4-0 win over Chelsea.
"The players have played a lot of games in the last years. With Kevin not playing for four or five days — will he lose something? I don't think so," he concluded.
Last Updated Jan 11, 2023, 4:21 PM IST