Japan crush Euro 2024 hosts Germany 4-1; adds pressure on coach Hansi Flick
In a remarkable turn of events, Japan handed a resounding 4-1 defeat to Germany in a friendly international, intensifying the scrutiny on Germany's beleaguered coach, Hansi Flick. This commanding victory by Japan comes as a setback to the Euro 2024 hosts and raises questions about Flick's future as coach.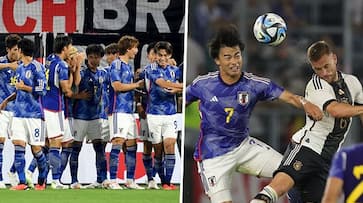 Japan delivered a stunning performance, humiliating the hosts of Euro 2024, Germany, with a commanding 4-1 victory in a friendly international match on Saturday. This lopsided result adds to the mounting pressure on the struggling German coach, Hansi Flick. Japan, who had previously contributed to Germany's early exit from the World Cup with a 2-1 win in Qatar last year, displayed their dominance by scoring twice in each half. The defeat raises serious questions about Flick's future, especially with Germany set to host the European Championships in nine months. Flick, despite the setback, defiantly maintained that he is the right man for the job, while Germany's captain, Ilkay Gundogan, acknowledged the team's deficiencies, calling it a bitter day and emphasizing the need for introspection.
Goals from Junya Ito and Ayase Ueda, along with a Leroy Sane strike, gave Japan a 2-1 lead at halftime, amid jeers from the home fans aimed at the German side. The second half saw Germany's lackluster performance continue, as Japan added two more goals in the final minutes through Takuma Asano and Ao Tanaka to secure their commanding victory.
Japan's manager, Hajime Moriyasu, expressed his satisfaction with the win, highlighting that his team had even more scoring opportunities. He emphasized the significance of winning in Germany under such challenging circumstances.
Prior to the match, Flick had pledged to field Germany's core team, abandoning experimental approaches that had resulted in just one win in five games since their disappointing World Cup exit. However, Flick's decision to start Nico Schlotterbeck at left-back, a position the Borussia Dortmund center-back had rarely played in his career, backfired, as his inexperience was exposed by Japan's winger, Yukinari Sugawara, leading to the opening goal.
While Germany showed promise with an equalizer from Leroy Sane, Japan quickly regained the lead, leaving the home crowd disheartened. Germany's possession dominance in the second half failed to break down Japan's resolute defense.
Also Read: Lionel Messi's sensational free-kick powers Argentina to victory in World Cup qualifiers (Watch)
With the looming pressure, Germany faces a tough decision about Flick's future, with former Bayern Munich boss Julian Nagelsmann possibly waiting in the wings. Germany's next challenge is a meeting with France on Tuesday, a team that could exploit vulnerabilities in the German defense.
For Japan, this victory marks their third consecutive win, affirming their strong preparations for the upcoming Asia Cup in Qatar in January, a tournament they have won a record four times.
Also Read: Emotional Homecoming: Sergio Ramos returns to Sevilla after 18 Years
Last Updated Sep 10, 2023, 12:13 PM IST