Lionel Messi's sensational free-kick powers Argentina to victory in World Cup qualifiers (Watch)
Lionel Messi's stunning free-kick secured a crucial 1-0 victory for Argentina over Ecuador in the FIFA World Cup qualifiers. Messi, now playing for Inter Miami in Major League Soccer, continues to break records and inspire his national team.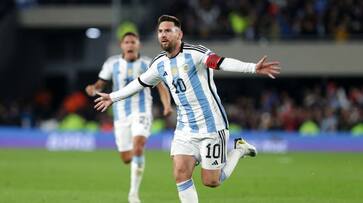 Lionel Messi delivers a breathtaking free-kick to inspire Argentina to a 1-0 victory over Ecuador. In his 176th appearance for the national team, Messi continued to shine, despite his move to Major League Soccer after his European football journey. The winning moment came in the 78th minute when Lautaro Martinez earned a free-kick just outside the Ecuador penalty area. Messi's impeccable strike found the corner of the net, leaving goalkeeper Hernan Galindez with no chance.
Messi has been in outstanding form since joining Inter Miami in MLS, putting an end to his stint at Paris Saint-Germain and even clinching the Golden Boot in the inaugural Leagues Cup with ten goals in seven games.
This goal against Ecuador in the World Cup qualifiers also propelled Messi to tie with his former Barcelona teammate, Luis Suarez of Uruguay, as the all-time leading scorer in South American qualifiers, marking his 29th goal.
While Messi has been a key figure in Argentina's recent World Cup success, he has been noncommittal about participating in the 2026 World Cup. Nevertheless, his exceptional skills and significance to the team were once again evident in this crucial victory under Lionel Scaloni's management, despite the challenging circumstances.
Also Read: Emotional Homecoming: Sergio Ramos returns to Sevilla after 18 Years
Last Updated Sep 8, 2023, 10:26 AM IST