Emotional Homecoming: Sergio Ramos returns to Sevilla after 18 Years
Football legend Sergio Ramos makes an emotional return to his boyhood club, Sevilla, after an astonishing 18-year journey through Real Madrid and Paris Saint-Germain.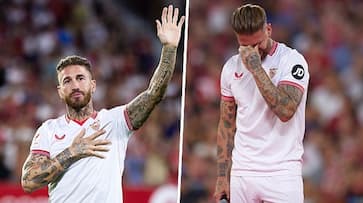 Sergio Ramos made an emotional return to his roots at Sevilla earlier this week, marking a heartfelt homecoming after an astonishing 18-year absence. This was a significant moment in the illustrious career of the former Spanish international, as he reconnected with the club that saw his meteoric rise from a young talent to a global football icon before his departure for Real Madrid in the summer of 2005.
After a successful stint with Paris Saint-Germain, Sergio Ramos found himself at a crossroads as his contract with the French giants came to an end this summer. It was then that he made a poignant decision - to return to Sevilla, the club that had molded him into the formidable defender and leader he is today. Ramos signed an initial 12-month deal with the Nervionenses, and the footballing world watched in anticipation as this legend prepared to step onto familiar turf once again.
The grand moment of his official unveiling drew an astounding crowd of approximately 23,000 devoted fans at the iconic Estadio Ramón Sánchez Pizjuán. The sheer magnitude of this reception was a testament to the deep-rooted connection between Sergio Ramos and Sevilla. It was not just a return; it was a glorious homecoming, marked by the thunderous applause and unwavering support of the Sevilla faithful.
As Sergio Ramos stood in the spotlight, donning the Sevilla jersey once more, the emotions of the occasion overwhelmed him. This was not just a football player rejoining his former club; it was a prodigal son coming home to his roots. The significance of the moment was palpable in his tearful eyes, reflecting the depth of his love for the club and the city that had shaped his footballing destiny.
For a player who has achieved the pinnacle of success with four Champions League titles among numerous other accolades, this return to Sevilla represented something beyond the silverware and trophies. It symbolized the essence of football - the unbreakable bond between a player and his club, the enduring love of fans, and the powerful emotions that this beautiful game can evoke.
As Sergio Ramos embarks on this new chapter in his storied career, the football world eagerly anticipates the magic and memories he will create in the familiar surroundings of Sevilla. His journey has come full circle, and it's a testament to the enduring power of football to bring tears of joy and nostalgia, even to the most seasoned professionals.
Also Read: Neymar Jr. reflects on difficult PSG stint with Messi: 'We went through hell'
Last Updated Sep 7, 2023, 2:10 PM IST