Eden Hazard stages sensational comeback in a charity match (WATCH)
Former professional footballer Eden Hazard, who recently retired, surprised fans by returning to the pitch in a charity match just weeks after hanging up his boots.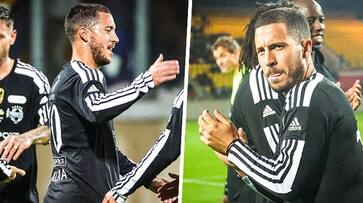 Eden Hazard, who recently announced his retirement from professional football just a few weeks ago, has made a swift return to the pitch by participating in a charity match. According to The Daily Mail, in this charity game held in Calais, Hazard not only scored a goal but also contributed with three assists, demonstrating his enduring skill and passion for the sport.
During the match, the former Chelsea star proudly donned the No 10 jersey for Le Varietes Club de France as they faced Team Calais in a star-studded encounter. Hazard exhibited his characteristic prowess on the right wing, causing havoc alongside renowned players like Robert Pires. In a remarkable display of his talents, Hazard even executed a trademark backheel assist, which notably found its target in none other than Kylian Mbappe's father.
The Belgian footballer delighted the fans who had come in big numbers to watch the match, one can expect Hazard taking part in more such charity events. 
Also Read: Newcastle's Sandro Tonali faces potential Football ban over betting on AC Milan matches
Also Read: Mohamed Salah urges peace and humanitarian aid amidst Gaza conflict (WATCH)
Last Updated Oct 19, 2023, 4:28 PM IST