Newcastle's Sandro Tonali faces potential Football ban over betting on AC Milan matches
Sandro Tonali, a midfielder for Newcastle United, is at risk of facing a substantial football ban after admitting to betting on AC Milan games while playing for the Italian club.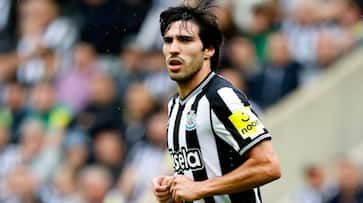 Sandro Tonali, a midfielder for Newcastle, is confronting a significant football ban after confessing to placing bets on AC Milan's games during his tenure at the Italian club, as reported by Sky in Italy. The revelation came during a hearing at the Italian Federation in Turin on Tuesday. Tonali, aged 23, was among the players implicated in an Italian football betting investigation last week, leading to his withdrawal from the senior men's squad for the defeat against England on Tuesday.
Newcastle has issued an official response to the situation, confirming that Tonali is under investigation by the Italian Prosecutor's Office and the Italian Football Federation (FIGC) for engaging in illegal betting activities. The club emphasized Tonali's full cooperation with the ongoing investigation and assured continued support for him and his family throughout the process. Due to the ongoing nature of the investigation, both Tonali and Newcastle United refrained from providing further comments at this time.
As revealed during the Tuesday hearing, Tonali admitted to placing bets on Milan's matches, irrespective of his involvement in the games, aligning with FIFA Code 26. Such conduct could result in players facing a ban of up to three years from global football. While Tonali is expected to face a substantial ban, his cooperation with the investigation and admission of guilt may lead to a somewhat reduced punishment.
In a similar case, Juventus midfielder Nicolo Fagioli, the first player implicated in the betting probe, received a seven-month ban for betting on football. Fagioli self-reported his actions, a step Tonali did not take. The Juventus player had five months of his one-year ban suspended, along with a fine and a mandatory therapy plan to address his gambling issue.
Sandro Tonali, who joined Newcastle from Milan for a transfer fee of £55 million in the summer, is anticipated to return to Newcastle on Wednesday. In a statement, Tonali's agent acknowledged the player's struggle with a gambling problem and highlighted it as a significant challenge in his career. Newcastle is scheduled to face Crystal Palace in a home match on Saturday.
Also Read: 'Thank You Kolkata': Brazilian legend Ronaldinho shares his love with fans after magical moment
Last Updated Oct 18, 2023, 8:22 PM IST