After India's Hockey World Cup 2023 debacle, team chief coach Graham Reid resigns
Indian men's hockey team chief coach Graham Reid on Monday resigned from his position following the host nation's disastrous outing at the just-concluded World Cup 2023.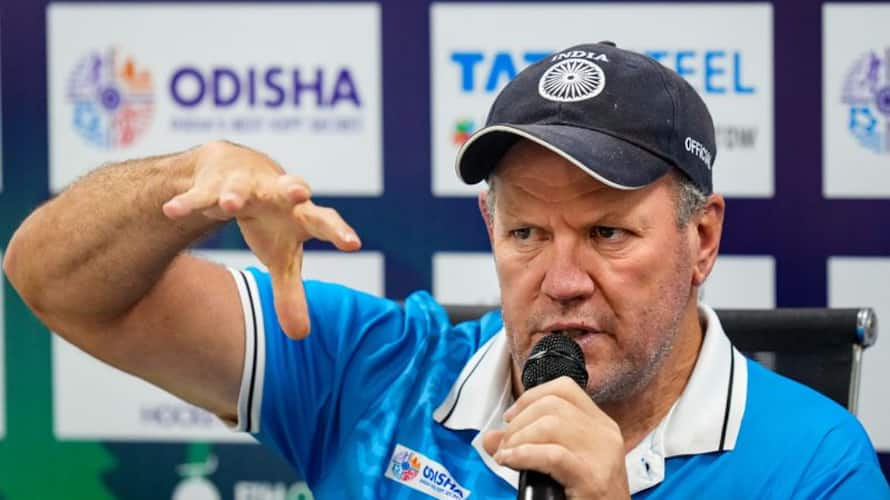 Graham Reid, the head coach of the Indian men's hockey team, announced his resignation on Monday in the wake of the host nation's poor performance at the just-finished World Cup 2023 in Orissa.
India's squad won a bronze medal for the first time at the Tokyo Olympics in 2021 under Reid, who was named the team's coach in April 2019.
Also read: Hockey World Cup 2023: German solidity triumphs; India's long holdup for medal persists
The 58-year-old Australian handed up his resignation to Dilip Tirkey, the president of Hockey India, a day after the World Cup in Bhubaneswar ended and Germany defeated Belgium in a penalty shootout to win the tournament.
"It is now time for me to step aside and hand over the reigns to the next management," Reid said, announcing his retirement. Reid's term was till next year's Paris Olympics. 
"It has been an honour and privilege to work with the team and Hockey India, and I have enjoyed every moment of this epic journey. I wish the team all the very best," he added. 
Reid decided during a meeting with the players and support personnel to evaluate the team's performance and future plans, attended by HI CEO Tirkey and Secretary General Bholanath Singh.
Besides Reid, the team's scientific adviser Mitchell David Pemberton and analytical coach Greg Clark also submitted their resignations on Monday.
Before leaving their positions, the trio will give one month's notice. 
India experienced great success under Reid, winning a silver medal at the 2018 Commonwealth Games in Birmingham, an Olympic medal after 41 years, and third place in the 2021–22 FIH Hockey Pro League season.
Also read: Hockey World Cup 2023 Final: Germany edges Belgium on penalties to win 3rd championship; wishes pour in
The FIH Series Final title triumph in 2019 was one of Reid's productive performances with India. By winning the qualifiers in Bhubaneswar the same year, the team qualified for the Tokyo Games. The trio's resignations were accepted by Turkey, which promised always to be appreciative of their contributions.
"India will always have gratitude towards Graham Reid and his team of support staff who have brought good results to the country, particularly the Olympic Games," he said. 
"As all journeys move to different phases, it is time for us to move on towards a new approach for our team." 
Hosts India started the tournament as fifth in world rankings but failed to qualify for the quarterfinals, losing to lower-ranked New Zealand in a shootout in the cross-over match. The home team, led by Harmanpreet Singh, eventually finished joint ninth along with Argentina after defeating Japan 8-0 and South Africa 5-2 in classification matches.
(With inputs from PTI)
Last Updated Jan 30, 2023, 5:09 PM IST