Youth shuns corporate job to bury unclaimed bodies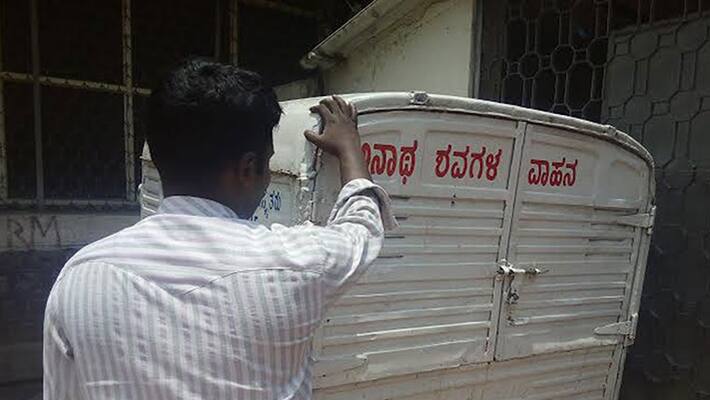 Praveen decided to follow in his father Trivikrama Mahadeva's footsteps, who, for a decade, has been giving unclaimed bodies a decent burial.
The 26-year-old claims that he was inspired by his father, who till now has buried over 15,000 unclaimed bodies. 
Unlike his friends, Praveen, who is a graduate in political science from Vijaynagar Government College and has master's in social work from Bangalore University, said he looked up to his father as his hero.
"He is a hero. He tries to serve mankind after their death by giving the unclaimed bodies a decent burial, thereby granting them a chance to rest in peace," he said.
Praveen, who has taken up the baton from his father since 2009, claims to have learnt deep lessons in life.
"People desist from touching the body of burnt victims and sometimes nobody comes forward to claim the bodies of suicide victims. They lie there rotting when I go to get it from the morgue," he said. But the smell has never bothered him.
"Of course, the stench is unbearable but we are all humans and we will all end up in the same state one day," he said.  
On one hand Praveen might have lost out on securing a well-paying white collar job; however, he is treated as a VVIP by the police personnel in the city. He gets at least five calls a day. 
"Unclaimed bodies earns us our bread and butter. For each unclaimed body buried, the City Corporation pays us Rs 250. So far I have buried 15,000 plus bodies. Trust me it gives me immense satisfaction to serve the humanity," said Praveen Kumar.
His parents, however, have their reservations as they feel that nobody would give their daughter him and on several occasions have asked him to change his profession. But Praveen says:
"I am proud of what I do and I am doing my bit to serve the society and it gives me immense satisfaction."   
Watch this exclusive interview video, where Praveen's father Mahadev shares his story with the Asianet Newsable team
Last Updated Mar 31, 2018, 6:45 PM IST