With the IT boom in Bengaluru, the city has drawn a lot of immigrants from around the country. Among those who've taken a liking to the Garden City are the Bengalis.
However, the relationship between Kannadigas and Bengalis isn't a recent one. The connection goes back into history. 
The Sena Empire that once ruled ancient Bengal in the 11th and 12th Century can be traced to Karnataka. Ballal Sena, the second ruler of the Sen dynasty of Bengal, ended the Pala empire and married Chalukya princess Ramadevi of Karnataka. 
Another example is that of Murshid Quli Khan, the first Nawab of Bengal, who was born in a Hindu Brahmin family in Karnataka. 
He was a close acquaintance of Aurangzeb and was sent to Bengal as its Diwan (ruler) in the 1700s.
The bond between Karnataka and West Bengal doesn't just lie in its rulers and ancient empires, but also in its language.
Linguists claim that the scripts of both Kannada and Bengali have been derived from the 'Brahmi' script.
(Image: Ballal Sen, Wikipedia)
The literary works of several writers and poets from both regions have an uncanny resemblance. 
Bengali poet and polymath Rabindranath Tagore based his book Prakritir Pratishodh in the scenic landscapes of Karwar in Karnataka. 
The book spoke of Tagore's visit to Karwar where his elder brother was posted as the district judge. Tagore also spoke about his boating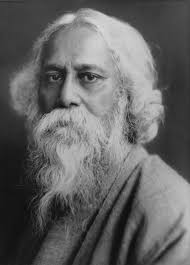 experience in the Kali river that runs through Karwar. 
The beaches of Karwar too were mentioned in Tagore's works. Kannada literary critics are of the opinion that most poets of the Kannada renaissance, such as Kuvempu, Bendre and Masti, were influenced by their Bengali counterparts at the beginning of 20th century. 
Tagore's famous composition Anandaloke Mangalaloke was inspired by a song sung in the court of Mysore Maharajas. 
Tagore who visited Bengaluru in 1919 was inspired by Mysore's anthem Kayo Sri Gowri. The anthem was based on Raga Dheera Shankarabharanam in Carnatic music. It was known as Bilawal in Hindustani music. The national anthem Jana Gana Mana is also based on the same raga and scale, perhaps a sign of its influence.
Legendary Kannada writer Kota Shivarama Karanth, a recipient of the Jnaanpeeth award, was inspired by Tagore's works. He wanted to pursue his studies at Visva Bharati University in Calcutta which followed the Tagorean ethos of life. But his father opposed Karanth's choice. Later, Karanth studied in Balavana, a school in Puttur, which followed Tagore's educational philosophy. 
Kannada writer and researcher Ambale Ramakrishna Krishnashastry won the Central Sahitya Akademi award for his translated work of Bankim Chandra Chatterjee's biography, originally written in Bengali.
Other than literature and history, Bengalis and Kannadigas share a special bond in the film industry too.
Guru Dutt, known as India's Orson Welles, was born in Bengaluru to father Shivashanker Rao Padukone and mother Vasanthi Padukone.
He would go on to make classic movies such as Pyaasa, Kaagaz Ke Phool, Sahib Bibi Aur Ghulam and Chaudhvin Ka Chand. 
The family moved to Calcutta, where Dutt spent his childhood growing fond of Bengali culture. He changed his birth name Vasanth Kumar Shivashankar Padukone to Guru Dutt to express his love for Bengal.
One of the most famous Bengalis in Indian cinema was playback singer Kishore Kumar, who sang songs in Kannada without actually knowing the language. 
The Kannada song Aadoo Aata Aadu sung by Kishore Kumar in 1972 remains popular.
Kannada and Bengali culture have a lot in common as well. For example, the celebration of Dasara festival holds prime importance in both Karnataka and West Bengal.
All said and done, even though Karnataka and West Bengal are physically quite far away from one another, there is more common ground than one might imagine.