Allies to foes: What went wrong between the police and Nayeem?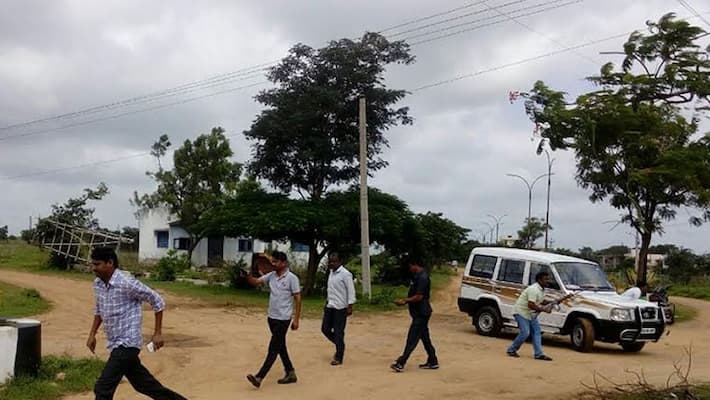 Nayeem, who was shot dead by police in Shadnagar yesterday, had successfully inducted himself into new urban land relations, spawned by the growing demand for urban lands in Hyderabad city.
The fight for control over real estate business spread into Medak and Mahabubnagar, Ranga Reddy and Nalgonda districts, regions which basked in the glory of global Hyderabad.
When Nayeem, was in 'People's War' he was introduced to a world of violence because of his familiarity with weapons.
For nearly a decade, Nayeem ruled the parallel empire of urban lands with a gang of armed hoodlums by his side.  His main occupation was to settle land disputes when the Hyderabad real estate business was at its peak; killing off all those who did not fall in line was his modus operandi.
Nayeem had been part of the Maoist movement since 1990. It is open knowledge that the police of United Andhra Pradesh used Nayeem's information about Maoists to kill many Naxalites and their sympathizers.
That the Hyderabad police, who have till date busted many a hardened ISIS conspirators, could not nab Nayeem is hard to believe.  Whether he really evaded the police for 14 years or whether that was merely a ruse by the police to keep him sheltered will never be known.
Now that he has been shot dead, the authorities have been touting to all sundry about his role in murders, extortion, land-grabbing, and kidnapping cases, to portray him as terrorising criminal.
Reports now claim that Nayeem operated an empire that owned thousands of acres of land in and around Hyderabad urban region worth Rs 10,000 crore.
So exactly what had the police been doing all these years when they were very well aware that a brutal criminal such as him lived in Hyderabad and its suburbs running an empire of thousands of acres of land?
No ordinary criminal can grow a business to this extent without the police being alerted. The so-called monster was obviously living right under the nose of ever vigilant police.
Last night's raids, at various well-known dens that belonged Nayeem, revealed numerous original land documents, huge wards of money and weapons stashed.  How did the police miss out on all this vital evidence all these years?
The police also recovered 400 original documents from his mother-in-law's house, indicating that  Nayeem owned major chunks of land in Hyderabad and its surrounding districts where land continues to occupy the centre stage in capital's politico-economic relations.
Reports claim that Nayeem was used by both politicians and the police to perform certain criminal acts on their behalf. He served both the groups and they helped him wander like underground king accessible only to bosses in the two groups.  For such a 'friend' of selected politicians and police to be suddenly eliminated, what actually went wrong?
According to some sources in the police, Nayeem, who flourished in old style mafia activities during the United Andhra Pradesh days found himself a misfit in the post-Telangana politics and he became a stumbling block for the new establishment.
"The Telangana movement has produced a new kind of politicians who are devoid of any criminal antecedents of conventional politics. The imminent need to exorcise the old mafia after the formation of Telangana state made crude Nayeem redundant.  Allowing a criminal who enjoyed the patronage of old politicians and old police is not good for a "new state", the sources added.
Nayeem is not the only kingpin to fall, many of the old time mafia operatives will soon meet the same fate if they find themselves ill-fitted to the new set-up being raised in the state of Telangana.
Last Updated Mar 31, 2018, 6:35 PM IST