How did Sasikala chance upon J Jayalalithaa?
How did the association grow along tiding through crests and troughs?
Why are her family members, supposedly 'persona non grata' back?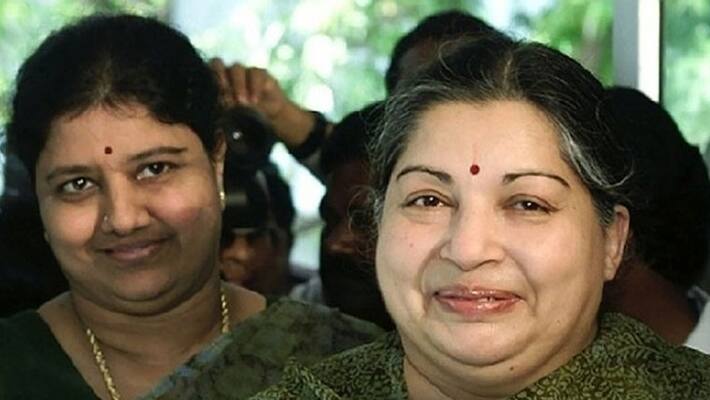 While Tamil Nadu is mourning in the muddled aftermath of AIADMK's legendary leader Jayalalithaa, the return of one man – Natarajan, Sasikala's estranged husband – has triggered a flood of memories from the Iron lady's past. A past that saw the high and lows of the deep-rooted association of Sasikala and Jaya. The time when Sasikala was just another citizen of Chennai struggling to make her ends meet.
Sasikala's association with Jaya dates back to the 1980s when she was a small-time videographer desiring to make money by covering Jaya's public events. She met an IAS officer, who set the stage for a formal introduction. It still intrigues people as to how former AIADMK chief, known to be shrewd, gave in to this relationship so easily. One remembers an interview of hers where she said, "I trust none that easily. I have changed from what I was." At the same time, it is also understandable because Jaya, a victim of the patriarchal political ground then, found both an emotional as well as a professional support in Sasikala.
That, by far, explains, how Sasikala, in a short span of time, grew from a close friend to a close aide and finally to Chinamma, which means junior Amma. Jaya, in an interview earlier, had said, "I am a politician who can be called anytime. And I may not have the time to take care of the home. I cannot go out shopping. I need help too. I need someone to take care of me." Sasikala fit in there like a glove.
It's interesting to know that Sasikala comes from Mannargudi of Tiruvarur District in Tamil Nadu, presumably a DMK bastion. She even married Natarajan, who was then given a job in the state administration by Jaya's arch rival – DMK Chief Karunanidhi. Reports suggest that Karunanidhi was present during their wedding ceremony.
However, along with Sasikala's role in Jayalalitha's home in Poes Garden, Natarajan positioned himself as the advisor to Jaya. Chinamma, along with her gang of relatives, were termed the Mannargudi mafia. Gradually, it was known that they were allegedly running a palace coup.
It is believed that PM Modi alerted Jaya when an industrialist intimidated by the Mannargudi Mafia, ran to Gujarat. Amma then became steadily aware of the conspiracy of her close ones at home and decided, one fine day in 2012, to oust them all.
Being with the comeback queen for long, Sasikala knew how to stage her comeback in exactly 100 days with a public, emotional, apology letter seeking forgiveness and promising that her relations will remain persona non-grata. But, along with Jaya, Sasikala seems to have buried her promises as well.
The visit of Rahul Gandhi from the Congress and Amit Shah from the BJP has piqued the curiosity of political analysts
Did Sasikala, aware of Jaya's ill-health, begin to lay the foundation for her rise in the party? Was her meeting with Rahul Gandhi a deliberate feeler sent out to Modi? Did the BJP, wanting to make in-roads into the State, plan an arrangement and set O Paneerselvam as the CM?
At the end of it all, the presence of Mannargudi Mafia at the funeral with Natarajan speaking to media displaying a leadership role, has definitely led to suspicions. Some AIADMK advocates have been vocal to fight the mafia at the court. 
Jayalalithaa fans are wondering if Amma would be turning in her grave knowing that the man, she despised, is back.
Last Updated Mar 31, 2018, 7:03 PM IST