On this day: India's first woman mountaineer conquered Mt Everest
This day, 37 years ago, Bachendri Pal -- India's first woman mountaineer -- conquered Mount Everest.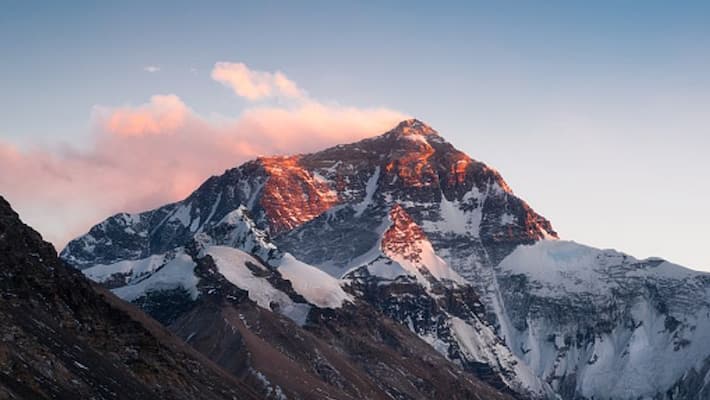 "Vertical sheets of frozen ice; cold winds were blowing at the speed of about 100 km per hour and temperatures touching minus 30 to 40 degrees Celsius. On 23 May 1984, the team reached the summit of Mount Everest at 1:07 p.m. IST and Bachendri Pal created the history."
- Bachendri Pal, Everest: My Journey to the top 
'29-year-old Bachendri Pal becomes first Indian woman to conquer Mt Everest' -- read the headlines of the newspapers 37 years ago when a young girl from India reached the top of the world's highest mountain, Mount Everest, with her grit and determination on May 23, 1984.
Since then, Bachendri's achievement has inspired many to trek her path. The achievement put her in the league of Tenzing Norgay and Edmund Hillary -- the first men on the Everest. She etched her name in gold in history books with her feat.
"It's nice to receive so much attention. But nothing can match the glorious excitement of standing at the summit, alone," says Bachendri Pal.
Bachendri Pal was only 29 when she did the unthinkable. Hailing from Uttarkashi in the foothills of the Himalayas, Pal gifted herself the Everest summit a day before her birthday. She was born on May 24, 1954, to a family of farmers in Nakuri village.
Her first encounter with the mountains was at the age of 12. During a school picnic, she along with her friends scaled a 13,123 feet high peak. But Pal eyed Mount Everest.
On making it to the top of Everest, Pal and her teammates planted a metal image of Goddess Durga. Pal was a part of the 16-member Indian expedition team of 1984 that set afoot to conquer the highest standing mountain.
Her journey to the top wasn't a cakewalk. Just a week before the summit, an avalanche had buried her tent under five feet of snow. The avalanche also left some injured, causing them to withdraw from the expedition. But Pal stood strong to the challenge.
She recalls, "I was sleeping in one of the tents with my teammates at Camp III at an altitude of 24,000 ft (7,315.2 m). On the night of May 15–16, 1984, at around 00:30 hours IST, I was jolted awake; something had hit me hard. I also heard a deafening sound, and soon after, I found myself being enveloped within a very cold mass of material."
Harish Chandra Sarin, the then Indian ambassador to Nepal, had said that only a girl of Bachendri's stamina and grit could withstand the psychological shock and go ahead with the final assault of the peak.
Pal was accompanied by Rita Gombu, who had to, unfortunately, return at just 600 feet away from the summit due to trouble with her oxygen gear. Meanwhile, Nepal's Sherpa Ang Dorjee, a member of her team, made the world record for being the second person to climb to the top without carrying any oxygen.
Pal along with Phu Dorjee, Lhatoo Dorjee, Sonam Palzor, and Ang Dorjee made it to the top and experienced the thrill of it as their dream came to reality.
Before Pal, only four other women mountaineers had made it to Everest's summit -- Junko Tabei from Japan in 1975, Than Tang in 1976; Rutkiewicz Wanda in 1978, and Hannelore Schmatz in 1979.
Back at home, her village and parents were dancing with joy, distributing sweets upon hearing the news. Pal and her team were welcomed with open arms. The whole team was felicitated. Her popularity grew so much that she received fan-mails weighing 5 to 6 kg a day.
The Government of India honoured Pal with Padma Shri in 1984, Arjuna Award in 1986, National Adventure Award in 1994, and the Padma Bhushan in 2019. She also represented India in World Eminent Women Mountaineering Meet held in France in 1986, was listed in 1990 Guinness Book of Records, and the Limca Book of Records in 1997.
After the 1984 expedition, Pal successfully led several other expeditions. This included the Indo-Nepalese Women's Mount Everest expedition (1993), the Great Women's Rafting Voyage (1994), the first Indian Women Trans-Himalayan expedition (1997), Snowmen Trek in Bhutan (2011), Desert Safari expedition (2008,2015).
She has also been an inspiration and mentor to Premlata Agarwal, the first Indian woman to scale seven summits, R S Pal (climbed Everest at age 53), Arunima Sinha (First woman amputee climber) Binita Soren, and many more.
She also went on to write a book Everest, My Journey to the top and led the Mission Gange expedition, which was lauded by Prime Minister Narendra Modi.
For three-and-a-half decades, Bachendri Pal served as the chief of the Adventure Programmes at Tata Steel, Jamshedpur. She was appointed director of the Tata Steel Adventure Foundation on JRD Tata's invitation. She worked towards empowering youngsters and women to conquer their mountaineering dreams. Pal retired from TSAF at the end of May 2019.
India has for years now produced mountaineers whose daring acts have registered a name in history. Among them are Arjun Vajpai, the third youngest Indian mountaineer to climb Everest; Prerna Dangi, who along with Ishani Sawant, became the first Indian girls to climb Stok Kangri in just 2 days, Arunima Sinha, the first amputee mountaineer to scale Everest and many more.
This article first appeared on Prasar Bharti News Service.
Last Updated May 23, 2021, 11:09 AM IST