From Pollution to Paradise: How urban India is cleaning its beaches
Local authorities and community groups are actively engaged in beach cleanup and awareness campaigns, aligning with the Swachh Bharat Mission Urban. India now boasts 12 Blue Flag Beaches adhering to cleanliness and sustainability protocols.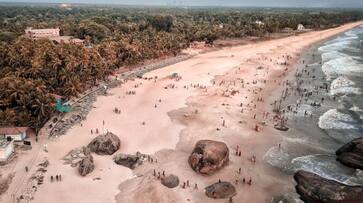 Beaches in urban India, including those in Visakhapatnam, Mumbai, Chennai, Goa, Kerala, and Odisha, have become year-round tourist hotspots, contributing significantly to the local economy. However, these beautiful coastal areas face various challenges, such as pollution, overcrowding due to high tourist numbers, and inadequate maintenance. Marine litter poses a significant threat to marine and coastal ecosystems, negatively impacting tourism. This concern has led citizens and Urban Local Bodies (ULBs) to become increasingly aware of the issue. To address these problems, joggers and runners have embraced "plogging," the practice of picking up litter while exercising, promoting both beach cleanliness and a healthy lifestyle.
In response to these challenges, local authorities and community groups are taking various initiatives to enhance waste management and sanitation on these urban beaches. Regular beach cleanup drives and restoration activities are carried out to ensure the beaches' cleanliness. ULBs are organizing awareness programs to educate people about preserving natural resources and marine life. These efforts are aligned with the Swachh Bharat Mission Urban, which aims to promote cleanliness and hygiene in urban areas.
Initiatives for Clean Beaches
India boasts 12 Blue Flag Beaches, which adhere to protocols for clean, safe, and environmentally friendly beaches, marinas, and sustainable boating tourism. These include Odisha's Golden Beach, Gujarat's Shivrajpur Beach, Kappad Beach in Kerala, Diu's Ghoghla Beach, Radhanagar Beach in Andaman & Nicobar, Karnataka's Kasargod & Padubidri beaches, Rushikonda Beach in Andhra Pradesh, TN's Kovalam Beach, Eden Beach in Puducherry, and Lakshadweep's Minicoy Thundi & Kadmat beaches.
Across various regions, including Mumbai, Vizag, Chennai, and Odisha, efforts are ongoing to not only maintain beach cleanliness but also engage corporate and community volunteers. These initiatives aim to ensure the sustainable upkeep of the beachfront by using mechanized beach cleaning techniques and conducting night cleaning operations. Many organizations and groups, such as the Yuva Tourism Club, Afroz Shah Foundation, Bhumi, Environmentalist Foundation of India, and Project Mumbai, actively participate in beach cleaning activities. They remove waste, including plastic, and organize community-driven activities.
Notable initiatives include the "Clean Coast Mumbai" program in Mumbai, the "Clean Beaches Initiative" in Chennai, and the "Swachh Sagar" program in Goa. These initiatives employ advanced beach cleaning machines and technologies to effectively combat pollution and maintain the pristine condition of the beaches.
Case Study on Attempts to Keep Beaches Clean
One case study in Visakhapatnam showcases the procurement of six advanced beach cleaning vehicles using German technology. These machines efficiently clean the beaches, removing waste and pollutants from the sand. In Alibag, Maharashtra, a beach cleaning machine is used to ensure the beach remains clean. Various cities, including Mumbai and Kollam, have enthusiastic youth and volunteer groups participating in regular beach cleanup activities.
Additionally, there are innovative waste management systems in place, such as the one using German technology in Kollam Beach. This system includes a mechanized aerobic compost unit for organic waste treatment, contributing to better waste management and environmental preservation.
Prime Minister Narendra Modi's "Ek Tareekh Ek Ghanta Ek Saath" initiative mobilized over 9 lakh sites for cleanliness drives, involving organizations like the Indian Coast Guard, Hindustan Shipyard Ltd., and Tata Power. Many celebrities also joined these initiatives to clean beaches and coastal areas.
As urbanization continues to accelerate, prioritizing wastewater treatment in coastal towns is crucial to prevent the negative impact of untreated wastewater on marine ecosystems and the livelihoods of coastal communities. Under the Swachh Bharat Mission Urban, wastewater treatment systems are being implemented, focusing on investing in new infrastructure and promoting sustainable practices among local businesses and residents to ensure the continued cleanliness and health of local waters.
Last Updated Oct 31, 2023, 4:43 PM IST