VG Siddhartha goes missing: Cafe Coffee Day will not shut down, says company in letter to share markets
The Cafe Coffee Day Enterprises Limited has written to top share markets BSE and Nifty that the company will function as usual. The news of disappearance of the owner will not hamper business says the letter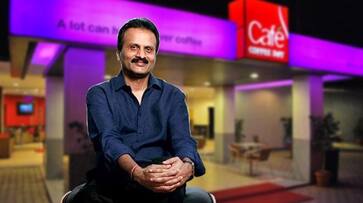 Mangaluru: Cafe Coffee Day shares opened to a low price today (July 30) following the news of disappearance of the company's owner VG Siddhartha since Monday evening (July 29).
Following this, the company's secretary Sadananda Poojari has written to the two top share markets that Cafe Coffee Day will not close and will function as usual.
"This is to inform you that Mr VG Siddhartha, Chairman and Managing Director of Coffee Day Enterprises Limited is not reachable since yesterday evening. We are taking the help of concerned authorities. Company is professionally managed and led by competent leadership, which will ensure continuity of business. We will keep you posted as and when we receive further updates," stated the letter written on behalf of the company.
Meanwhile, the shares opened to Rs 154.05 with a drop of 19.90%, whereas the drop in NSE is 20%.
The news of Coffee Day franchises being closed today due to the shocking news of its owner going missing added to the fall in the price of shares of the company.
ALSO READ: SM Krishna's son-in-law Siddarth goes missing from Mangaluru
Siddhartha, son-in-law of former foreign minister and chief minister of Karnataka, was travelling to Mangaluru on Monday evening in his Innova car when he asked the driver (according to driver's statement) to stop the vehicle near River Nethravathi bridge and asked him to wait a little further.
As it is the only road and Siddhartha did not return even after half an hour, driver made a call to his phone, but it was switched off.
The family and local police were informed immediately and search is on in the River Nethravathi, suspecting suicide.
Cafe Coffee Day owner VG Siddarth missing; Yediyurappa, Puneeth Rajkumar reach SM Krishna's residence:
Last Updated Jul 30, 2019, 3:36 PM IST