Tonique: Asia's largest liquor store has spirits flowing through Silicon Valley of India
Over 1,000 brands of wine and spirits with nearly 300 different labels are found stacked in Tonique, the brand-new liquor store at Anil Kumble Circle, Bengaluru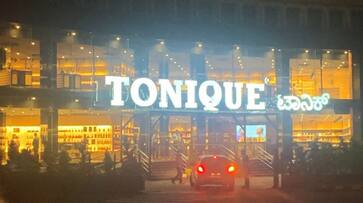 Bengaluru: For nearly six months, citizens of Bengaluru were kept guessing as to what is in store in the prime location formerly known as Jewels de Paragon corner at Anil Kumble Circle. Some said there was a new hotel in the making and others thought this would probably turn out to be a large jewellery or a textile showroom.
On June 30, they were in for a pleasant surprise as the pub city witnessed the inauguration of Asia's largest liquor store - Tonique.
Enter the showroom, and the ground floor welcomes you with over 300 brands of spirits - from whiskey, vodka, cognac to beer, gin and more. The store has stocked both domestic as well as imported varieties.
That's not all. A flight of stairs at the far end leads one to the first floor that is home to around 1,000 brands of wines and champagnes from Australia, France, New Zealand, India and more. Japanese Sake to Italian Prosecco, the intoxicating flavours will leave you spoilt for choice.
There are two showrooms in Hyderabad and this one in Bengaluru is the third outlet.
The owner of Tonique, Anith Reddy, and his manager Das said that this store would also introduce different varieties of cheese and bakery products.
Well, Bengaluru's liquor lovers will now know where to spend their 'happy hours'.
Last Updated Jul 2, 2019, 1:47 PM IST